The new Google Chrome browser does not use Bing as the default search engine by default!

However, if you prefer something other than Google search, even if it is the most popular search in Germany, you can change this. Any search engine can be used by default in the Edge, as is the case in the Chrome browser. Even though Microsoft Edge and Internet Explorer are preinstalled, the new Chrome browser is very popular. Here's an example, but you can choose any other search engine if you'd like.


Use any other search engine on Windows in the Chrome browser!
1. Start the new Chrome browser
2. Open the
"Settings"
via the
"..."
menu 
3. Enter
"Search engine"
in the search
4. Select the optional search engines: "Bing", " Yahoo ", ....
(
... see Image-1 Point 1 to 3
)
5. If your search engine is not listed, click on
"Manage search engines"
6. Click   on
"Add"
7. And enter the address of the search engine
8. Click on 
"Add"
again to use it
(
... see Image-1 Point 4 and 7
)
See also: ►► 
How to use voice search in Google Chrome on Windows?

(Image-1) Switching to other searches in Google Chrome on Windows 10!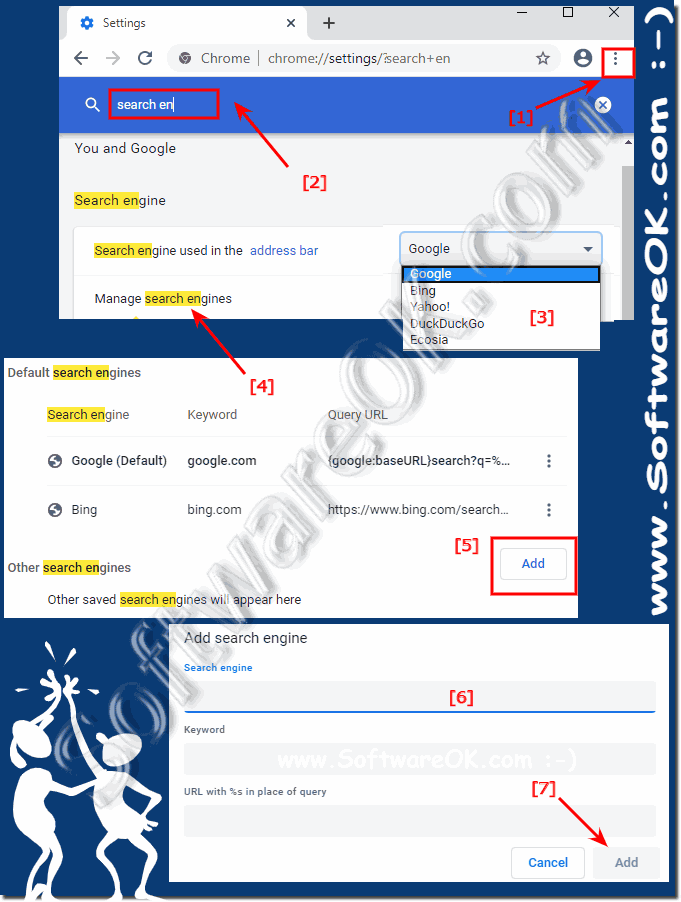 Info:
You can now enter a search query in the address bar of the Chrome browser and press the Enter key. This will automatically search your standard search engine. Chrome browser even provides suggestions in the drop-down box, provided your search engine supports suggestions and you leave them enabled in Chrome browser settings.