Anyone can distribute, share, use, use the directory printing tool for free without feeling guilty on Windows 11, 10, ... and MS Server OS!


And it is easy to pass the directory printout tool on to every user, friend, acquaintance free of charge and to benefit from DirPrintOK!


 



1.) The automatic forwarding of the directory printing tool on Windows OS!
1. Start  as always ►► the directory printout program / app

2. Go to the Info menu

3. Recommend DirPrintOK 
or:
4. Send DirPrintOK by email


(... see Image-1 Point 1  to 3)




(Image-1) Share directory printing tool with friends!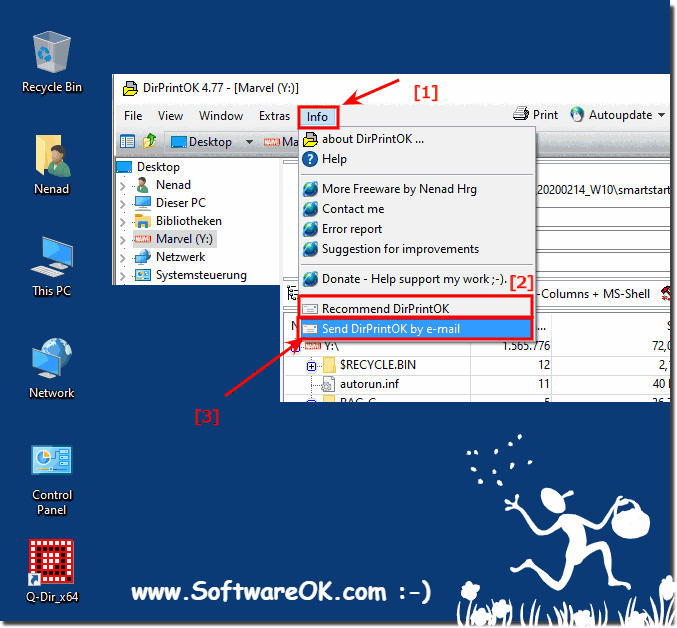 It's easy, even if you don't use
MS Office and share Outlook with your family,
 you can quickly pass it on in any modern email program and without worrying about the email restrictions (20 MB)! The directory printout tool itself is less than 2 MB and is packed as a
ZIP file
, then passed on to the
standard email program
and then it is easy to enter the email recipient and press the "Send button"!
2.) Can I use the directory printing tool at work in the office?

Yes, commercial use in the office area is also possible, you can use it through the variety of DirPrintOK options, it is equipped with some nice directory print functions and the options can also be adjusted for each individual user, for many Windows users it is a huge asset especially in the office and you don't have to worry about whether you can legally use it at home or in the office!


3.) What should I watch out for when forwarding the directory printout Tool Tools for Windows?
There are no restrictions on the distribution of the Directory Printout Tool that must be observed with the Directory Printout Tool for all Windows systems or with regard to the free distribution.

You can use the directory printout tool, known as DirPrintOK, on ​​all Windows systems and use it without restrictions.

You can also pass it on to all friends, work colleagues or business partners free of charge and without restriction in order to let them benefit from the advantages of the directory printout tool solution on all Windows OS, without running the risk of having license problems or being forced to do so to be acting illegally.

The directory printout tool, which you use on the Windows desktop, is free for everyone and can be quickly uninstalled at any time without leaving any traces on Windows 10, 8.1 PC!






FAQ 19: Updated on: 27 August 2023 12:17