Internet Explorer 11 is a web browser

that is included in Windows 10. However, Microsoft Edge is the default web browser in Windows 10!

Content:
1.) Activate the Internet Explorer 11 input bar (search field)!
2. Click or hold down the right blue bar in IE11 with the right mouse button
3. Tap on tabs to activate check the: 
"Show Tabs on a separate row"
"Show tabs on a separate row"
. ◄ Enable / Disable
When the menu is activated, you can right-click on the menu bar to perform
If not, then the right of the first tab (Tab)
(
... see Image-1 Point 1 to 5
)
(Image-3) Internet Explorer 11 input bar missing ergo search field and menu!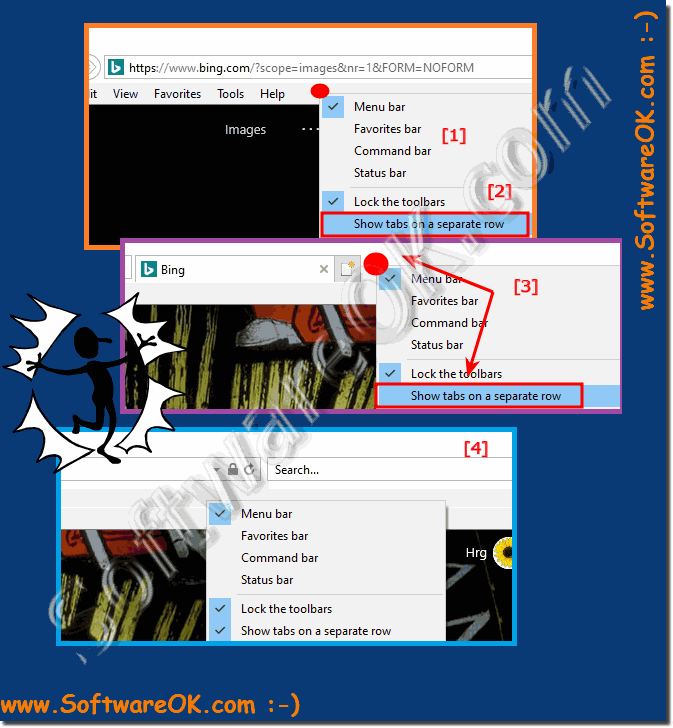 Info:

Internet Explorer is Microsoft's proprietary browser. It is pre-installed on all Windows computers and is therefore often used on PC computers. A number of settings and actions can cause your Internet Explorer address bar to disappear. In most cases, the problem can be fixed in a matter of seconds, so you can work again!



2.) The registry entry is responsible for the search field!  
The responsible entry is in:  
Computer\HKEY_CURRENT_USER\Software\Microsoft\Internet Explorer\MINIE
Value:
ShowTabsBelowAddressBar
DWORD 1 = Show 2 = Hide
PS: the AlwaysShowMenus value is responsible for the Internet Explorer 11 program menu!
If you change the Internet Explorer 11 settings via the registry, the Internet Explorer must be
restarted
!
(Image-2) Internet Explorer 11 input bar missing (search field, menu)!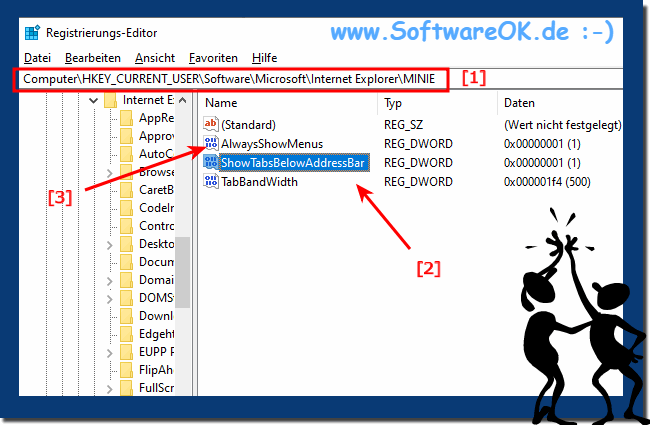 Info:
Many Windows users don't like Internet Explorer so much that just using a different browser is not enough, they want it not to be available on Windows 10. Although there is no way to completely uninstall it, you can disable Internet Explorer in Windows so that you no longer have to deal with it.
►►
Activate and deactivate Internet Explorer 11 Windows 10
!