It is quite easy to check under Windows 11 / 10 whether an app or a desktop program is running as administrator (admin mode)!
Everyone knows UAC now, it's shown to request approval, or credentials, so an application can start with full administrative privileges, for example because the app's developer has flagged the application / program to
require administrative access
.
Content:
1.) Detecting if an application is in administrative mode!

2. Go to the Details tab

3. Right-click the column header and select Select Columns .

4. In the new window that opens, scroll down and you will see an unchecked checkbox
labeled  "Elevated". Select the check box and click OK to close the window.
5. On the "Details" tab of the Task Manager is now a new column 
"Promoted"
 appears.
6. Now search for the app or program that has been started to check if it is running with elevated permissions (admin mode). 
(
... see Image-1
)
(Image-1) Windows-10:Is an app running a Program at an administrator mode!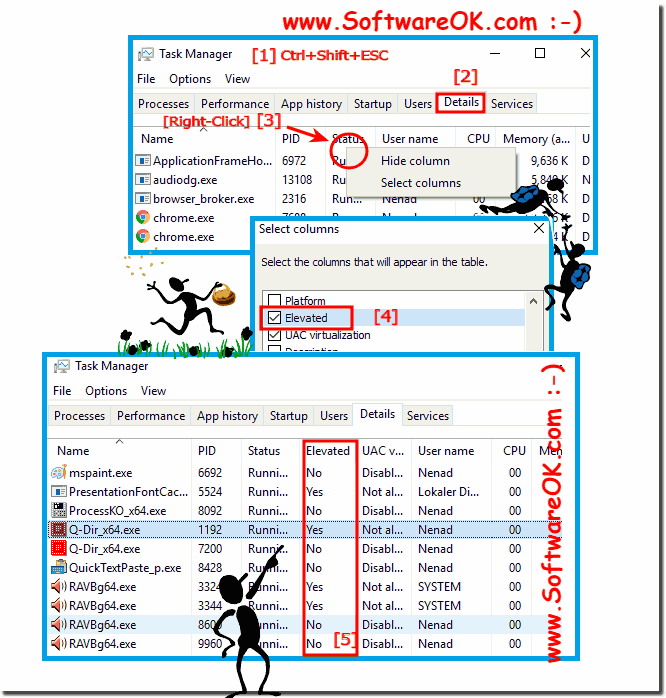 2.) Why do programs need administrative rights?
Since Windows 2005, Windows User Account Control has been introduced because you occasionally need to run some programs in Administrator mode to perform some of the system administration functions.
If the UAC setting in Windows is set to the highest level, you will receive a UAC prompt when you open an app or program as an administrator.

For system changes, or settings  

1. The application developer has marked the application so that these rights are required!
2.
User Account Control
 has detected that the application is an installer or setup application.
3. Microsoft analyzed the application and set an admin rights required mark! 
4. An administrator has changed the application compatibility settings.
3.) What should I pay attention to when approving the applications?
As a power user, or system administrator, you need to know these applications and use them according to your situation and need.
If certain programs want access, you can not stress this enough!
If you do not necessarily need the Windows Administrator account for a specific purpose, do not use it.
There is a reason why Microsoft has the UAC in every version, so it's just safer to work that way!