Under Windows 11 and 10, the clipboard has been improved more revolutionary and has a kind of history!
Info:
In this tip, you
'll
realize how easy it is to use them, you do not need third-party programs like
Multi.Clip.Board.Slots
, or Quick Text Paste to make good use of the clipboard, no matter if it's a Windows Desktop, Tablet, Surface Pro / Go, or even a server operating system, and whether or not you work with or without MS Office Clipboard!


The clipboard of Windows 11 / 10
as in the past a cache that was already used in Windows 95/98 as a cache.
Saving works the same way as before with the hotkey [Ctrl] + [C] to fill the cache and [Ctrl] + [X] to exit and transfer the data to the cache.
The data can be
inserted
in programs such as MS-Paint, MD-Explorer, Notepad, or Q-Dir with the key combination [Ctrl] + [V]. 


The new magic clipboard button!



So far so good, the new magic key is [Windows Logo] + [V] , when pressed it will show a history of the clipboard with the text currently being put into the clipboard.
( ... see picture-1 ) Simply awesome. 



(Picture 1) Windows 10 clipboard history!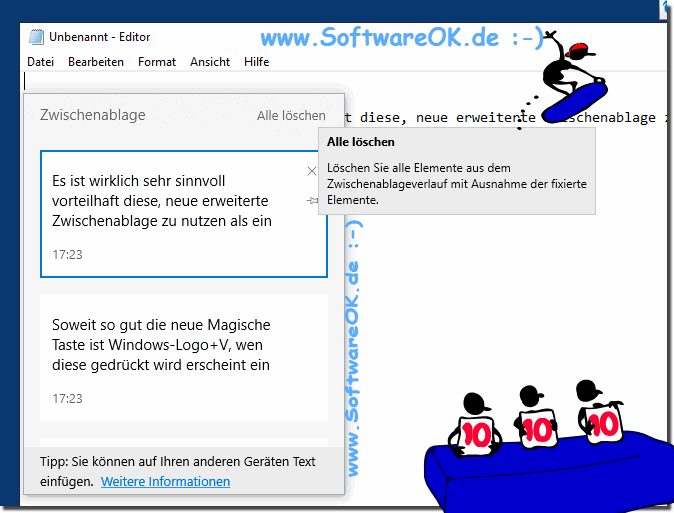 It really is very useful and beneficial to use this new advanced clipboard as an effective clipboard tool with meaningful and improved features