It is quite easy to adjust the screen brightness

in the classic mobility center to protect the monitor and the eyes a little!

Without relying on free solutions such as the ► 

Screen Brightness Manager for Windows

, you can easily adjust the screen brightness in Windows 11!

 

Content:
1.) How you can control the screen brightness on Windows 11!
Straight to Screen Brightness 🔆 Adjustment!
Use the Windows 11 Control Panel + F3 key, search term
mobility
Or simply:
1.
Windows + R
and the direct command 
mblctr.exe
2. and you can already use the mobility center
(
... see Image-1 Point 1 to 3
)
under Among other things, here is the adjustment of the screen brightness, as well as other options: volume, ... etc., very simple and still useful even on Microsoft's latest OS Windows 11! Most modern Windows computers, laptops and monitors have such brightness control.
(Image-1) Customize the screen brightness in Windows 11!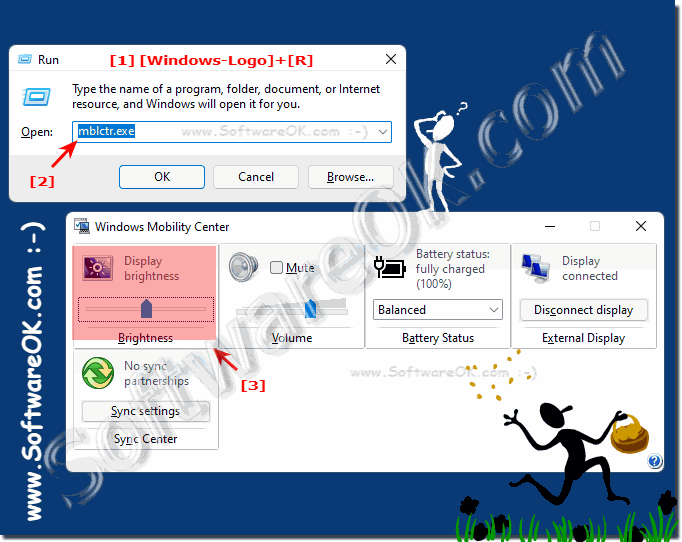 2.) Tips and information about Windows screen brightness controls and co.!
Windows Screen Brightness Control is a feature that allows you to adjust the brightness of your computer monitor or screen on Windows 11, 10,... This is useful for adjusting the display to current lighting conditions or to save energy.
Software Applications: There are also third-party software applications that provide advanced screen brightness controls. These can be useful if you want more control over brightness. However, it's usually a pretty simple feature that allows you to adjust the brightness to your preference.