It is easy to quickly rename individual or multiple audio devices in Windows 11 and 10 or to assign self-defined names!
Everyone probably knows how easy it is
to manage playback and recording devices in Windows 11
. This little hidden and unknown option with several sound cards or output devices can be very helpful to recognize them better! Why not if it's possible!  
1.) This is how you assign new identifiers to your audio output devices!
1. First, open Windows Settings by pressing
Windows + i
on your keyboard. 
2. In the settings, click on "System" in the sidebar

3. Scroll to "Sound" on the right side and open with a click
4. In the sound settings for the individual audio output devices via the ">"  (arrow button)

5. Click on "Rename" assign a name and then  confirm again with "Rename" .
(
... see Image-1 Point 1 to 7
) 
Info:

So that you don't have to scroll like a monkey, I've put the steps together in a more compact way! In this example, it's the External-Speakers that I've renamed! 


(Image-1) Rename audio devices in Windows 11 or 10!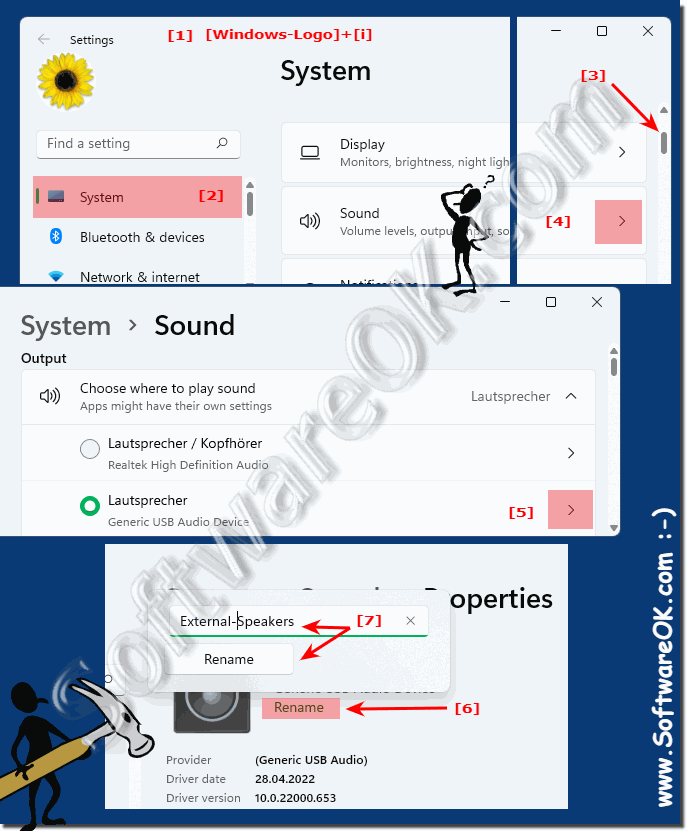 2.) Why rename the audio devices in Windows 11 or 10?
The main reason for renaming your audio output devices is to make them easily recognizable. For example, if you use multiple speakers / sound cards on your Windows PC and each has a unique name, you can quickly identify the device! 
(
... see Image-2 Point 1 to 4
) 
PS:

Naming devices also helps when troubleshooting audio issues, as it allows you to more quickly identify and select the correct device while trying to troubleshoot sound issues on Windows. As in this example, internal and external audio devices!


(Image-2) Select audio output devices in Windows!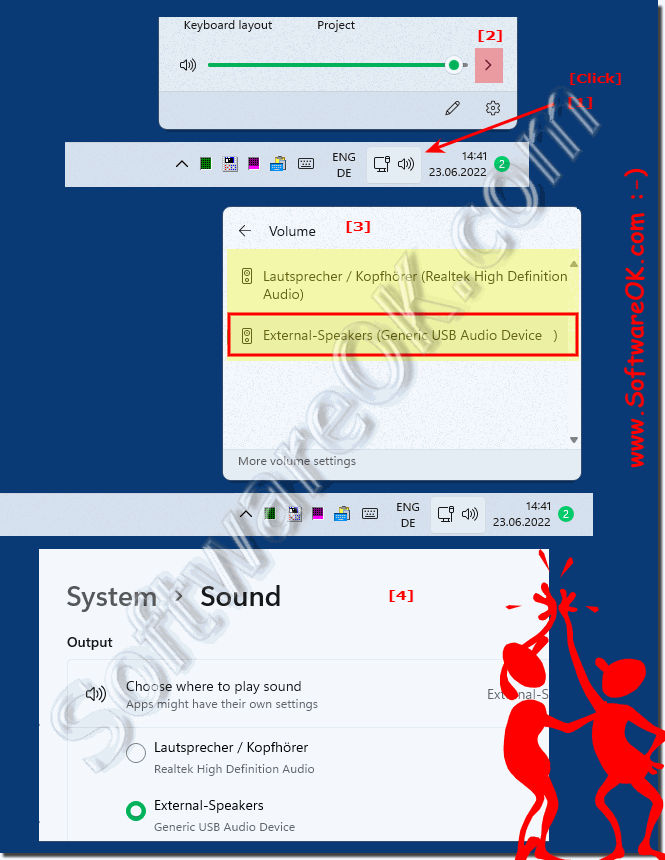 3.) More tips on audio / sound under Windows 11!