It is easy to create a shortcut for the mobility center under Windows 11 to use from the Windows Desktop or Start!

You can quickly create a mobility center button on the Windows 11 desktop under Windows 11, why not, if it is possible, it is just as practical to have the mobility center at hand in the Windows 11 start menu or the Windows taskbar! 


Create mobility center shortcut on Windows 11, 10, ... desktop!
1. Simply use the keyboard shortcut
Windows + D
to focus the desktop
2. Click on a free space on the Windows 11 desktop (right mouse button)
3. As always, option: ► 
New
 ►  Create
Shortcut
4. Target 
C:\Windows\system32\mblctr.exe
5. As a name for example 
Mobility Center
or
MBC
(Image-1) Shortcut for the mobility center under Windows 11!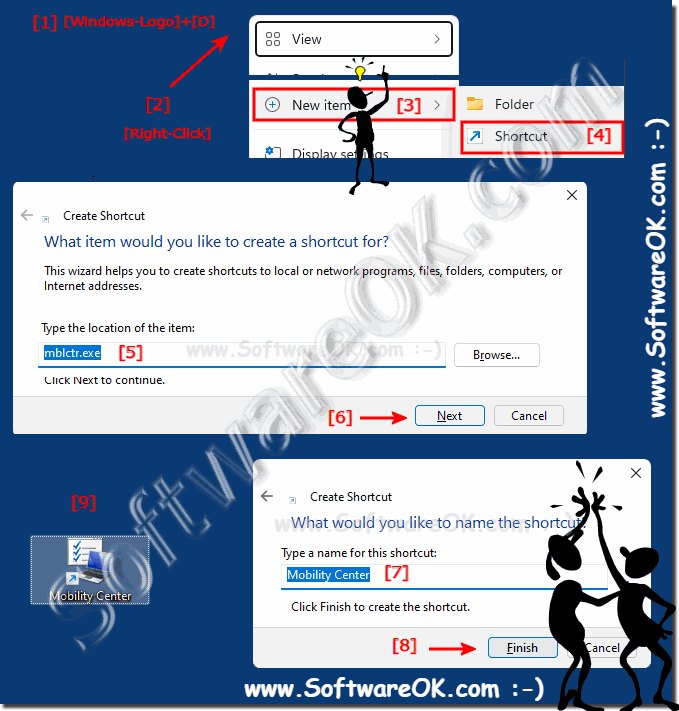 Make the mobility center available via the start menu or in the Windows 11 taskbar!
If you have created the ►
Mobility Center shortcut on the desktop 

1. You can pin it to  the Windows 11 start  with a simple
right click of the mouse
2. After you have started the Mobility Center, you can also pin it to the taskbar with a right click!
(
... see Image-2 Point 1 to 4
) 
(Image-2) Mobility center in the Windows 11 Start!