If you want to quickly open the estimated time of the remaining battery life in the Windows 11 settings via a desktop shortcut or start menu!
For further links: ►► 
Windows 11: ms-settings: -commands for settings!
1.) Creating the Windows 11 battery saving settings as a shortcut!
1. Keyboard shortcut
Windows + D
to focus on the desktop
2. Click on a free
space
on the desktop
3. As always ► 
New
►  Create
shortcut
4. As target
ms-settings:batterysaver-settings
5. As a name for example 
Battery Status
 or only "battery"
(
... see Image-1 Point 1 to 9
)
(Image-1) Battery / Power saving settings for Windows 11 as a desktop shortcut!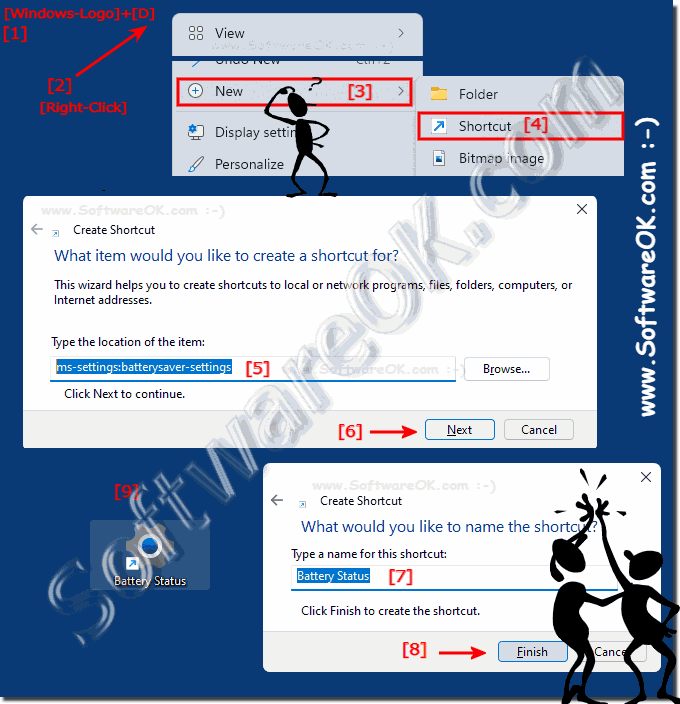 2.) Placing the battery status in the start menu
As described above, however, use:
explorer.exe ms-settings: batterysaver-settings
as a command, otherwise Windows 11 will not accept it in the start menu
Via further options (point 3) you can
pin
it to the taskbar!
(
... see Image-2
) 
(Image-2) Battery saving settings for Windows 11 in Start Menu!