BitLocker Drive Encryption in Windows 11 can be made available quickly when Windows starts, or as a shortcut on the desktop!
1.) Open BitLocker faster in Windows 11!
1.
Open the Control Panel 11 Windows
 (Windows + R + control)
2. enter 
"bitlocker"
3. right-click the 
BitLocker
4. And ad here to start or directly create a desktop shortcut
(
... see Image-1 Point 1 to 6
)
If you want to encrypt data drives, or integrated drives, as well as removable media in Windows 11, you can unlock an
encrypted drive or folder
with a password or a smart card. You can also choose to automatically unlock the drive when you log on to the computer. This very simple example to find or open the Windows Bit-Locker is also for earlier MS Windows 11, 10, 8.1, ... versions and MS Server OS!
(Image-1) BitLocker in Windows 11 start menu or on the desktop as a shortcut!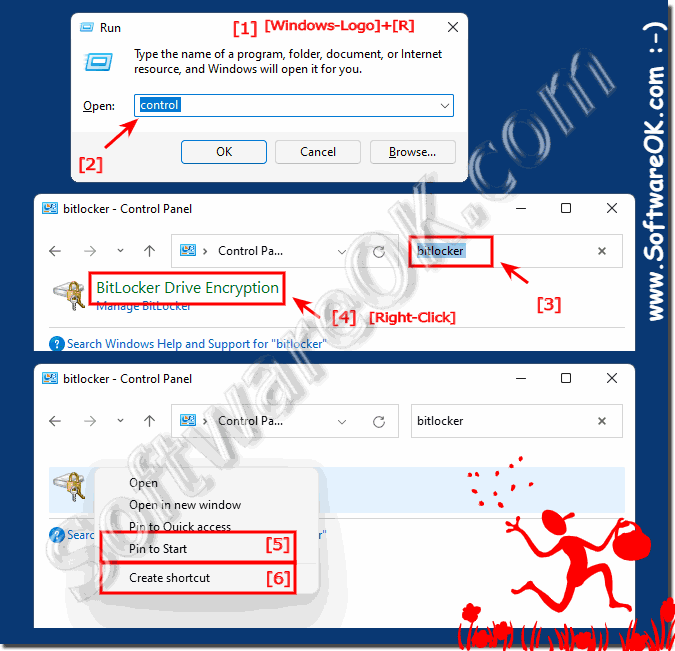 2.) The BitLocker in Windows 11!
BitLocker in Windows 11 is available from Windows 11 Pro version!
The phenomenal BitLocker Drive Encryption does a very good job of encrypting all the data stored on the Windows operating system volume and configured data volumes, and by using a
Trusted Platform Module (TPM) it
can also help ensure the integrity of the early boot components .
BitLocker was first introduced in Windows with Windows 2005 and after the release of Windows 11 it is also present.