It is very useful to rotate the image or scan(s) before starting to create the PDF file. Sometimes you just scanned the wrong way!
It sometimes happens when you receive a PDF from an email, or download a PDF from the Internet, the pages are rotated, or the entire PDF is upside down, making reading difficult. If you want the PDF to be turned in the right direction - don't worry! You can easily rotate PDF pages in this software on your Windows PC. 
Content:
1.) Rotating the scanned image before creating the PDF!
Mark the pictures in WinScan2PDF and rotate them! 
(
... see Image-1 Point 1 to 4
)
PS:
You see the images rotating, photos do not require any graphics expertise or advanced knowledge to rotate a simple image by 0, 90, 180, 270 degrees, anyone can use it to rotate the photos before creating the PDF and this on all Microsoft Windows operating systems without much effort!
(Image-1) Rotate the image or scans before PDF creation!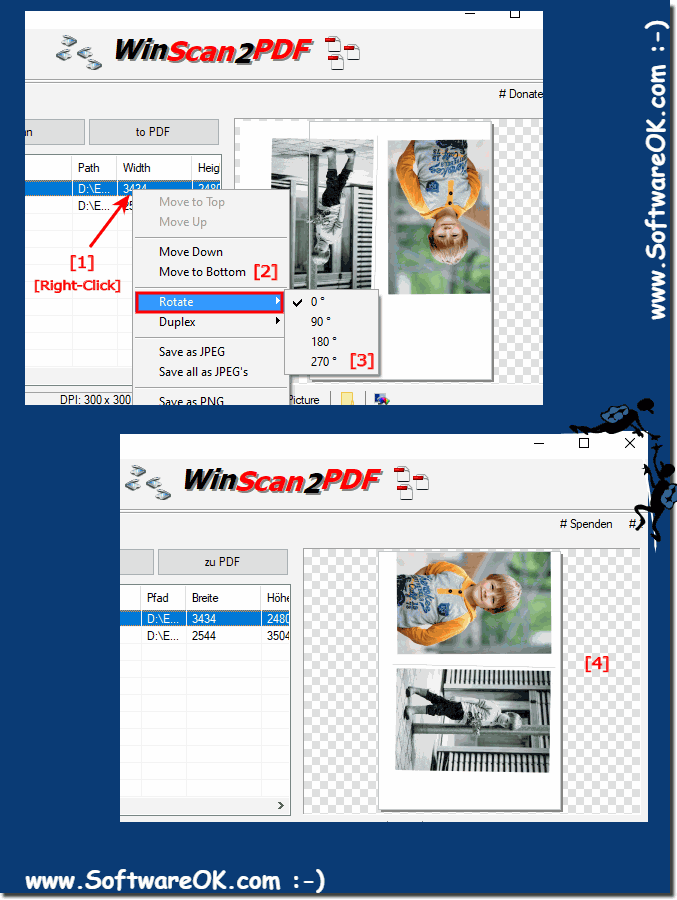 2.) More information about images in PDF!
The correct alignment of the images in a PDF file is important to everyone in order to be able to place images as pages in a PDF document, so that when the PDF document is opened, the image is in the desired position and the original page orientation, as well as the ratio, fits , t is very simple.
You have other options
to influence
the behavior
, position and aspect ratio, which is very practical depending on whether you need the page scan, images, PDF document as a printout, or as a space-saving archive to email it to a friend or business partner , ... to be able to send! 
See also:
► 
Can I really take my photos to PDF files on Windows?
► 
Save PDF errors in Microsoft Windows 10 OS, why?
(Image-2) Correct rotation of the image and positioning in the PDF document!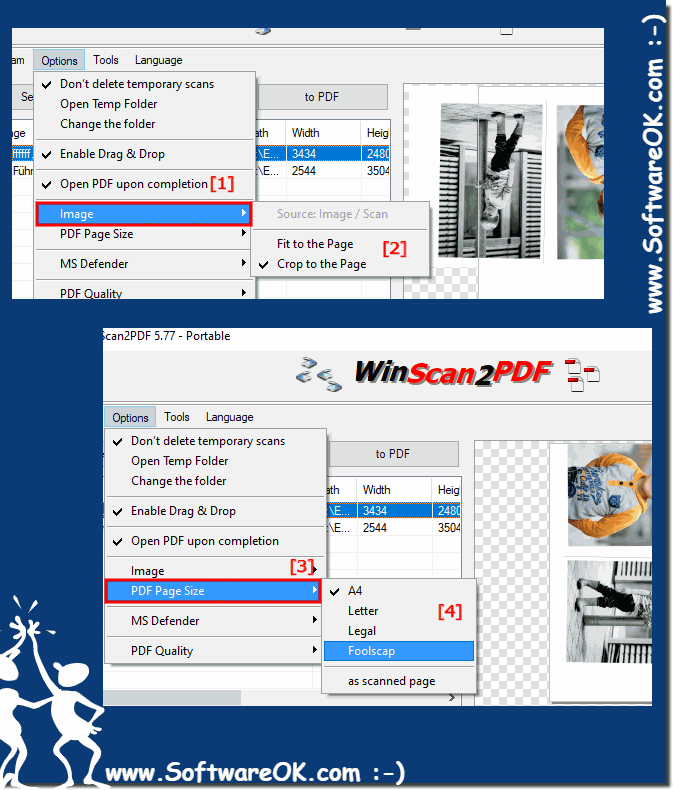 Info:
Placing the pictures on pages, on a PDF document, is therefore understandable for everyone in the process principle in order to use it in a variety of ways. Selected images to be sent as multiple pages in a PDF document!
Or to another small PDF archive, you can either leave the images on one page in the original format in the document, or experiment and rotate, rotate and position it wherever you want. The turning of the image process here, however, is done on an easy-to-understand PDF creation that happens on the page level.