Settings for the current language and region in MS Windows 11 can be found very quickly!



 

Content:



1.) The correct language and region in Windows 11! 
1. Windows + i shortcut 

2. ► "Time and Language"

3. And easy Language & Region Change 

See also: ►  Decimal-Char in Windows  ►  Date format settings under Windows  ►  Time zone adjustment 



(Image-1) The language and region settings in MS Windows 11 OS!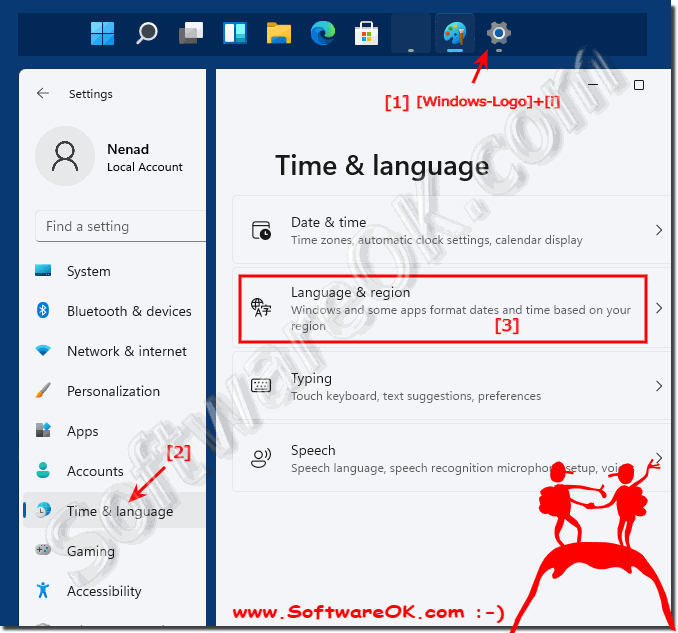 2.) Additional language, region and Co. Tips and information for Windows 11!

Languages ​​and regions are problems that are usually very rarely encountered in the new Windows 11. However, sometimes they can appear and then it is quite uncomfortable. Here are a few selected tips that could be helpful on this topic or simply to better understand language and regional settings.



Windows 11 is the latest operating system from Microsoft and brings with it some new features and changes. Here are some tips and information that can help you use Windows 11!

In Windows 11, you can easily customize your system's language and region. This is useful if you live in a different country or want to use a language other than the default Windows language.

If you change the language of your system, the settings and text in the user interface will also be displayed in that language. When you change your system's region, the date and time formats, currency symbols, and other settings are also adjusted. You can install multiple languages ​​on your system and switch between them.

Customizing your system's language and region in Windows 11 is a simple and straightforward task. With these tips and information you can adapt your system to your needs and achieve an optimal user experience.



FAQ 75: Updated on: 14 October 2023 14:59