You forgot to securely erase your data, no problem, it is easy to remove all traces with the free space on the hard drive function!
Everyone wants to delete the files completely. Then you forget it under Windows, especially when deleting on expensive SSDs, or slow HDDs and USB sticks, it is important and correct! So if you forget to securely delete files on the Microsoft Windows 11, 10, 8.1, ... operating system, you are still able to clean up the free area of ​​the hard drive to remove all traces, so you can remove traces at any time who left their data on the hard drive.
Safely clean free area of ​​the hard drive, then standby on Windows 11, 10, 8.1, ...!
1. Start 
the Secure Erase program
!
2. Via the menu
"Overwrite free area with random numbers +" 
3. Choose the action that should happen during the data trace cleanup
4. Select the Windows hard disk 
(
... see Image-1 Point 1 and 2
)
(Image-1) Clean the free space and put the PC in standby mode or shutdown!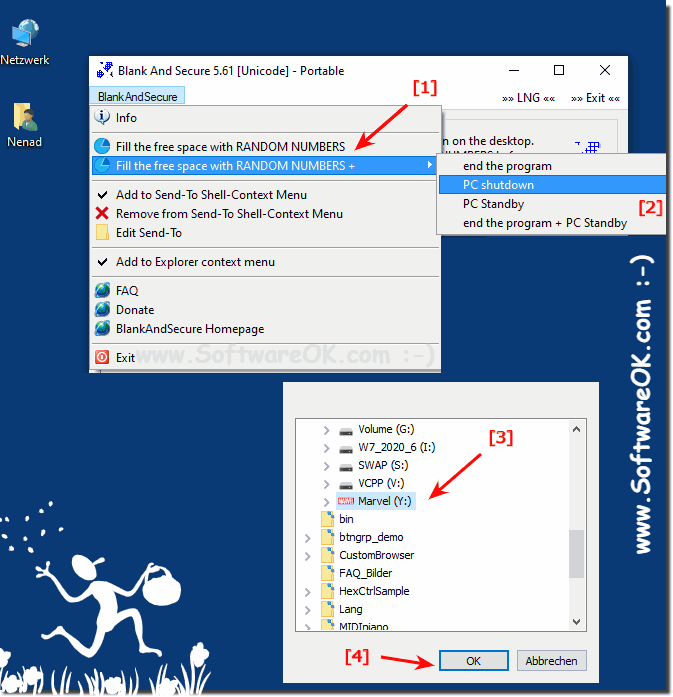 With this tool, you don't need a manual to securely erase your valuable data. Regardless of this, with these instructions you can safely delete data from SSDs, HDDs, flash drives, SD cards, USB sticks, ... and easily and without hesitation on all Microsoft's Windows operating systems, Windows desktop computers, mobile on a tablet -PC, Surface Pro / Go, or even use as an administrator in a server room on the server, remove the traces!