An example how to activate the simple feature to get a Windows Desktop Color about the to-tray, ergo notification area in the Windows 11, 10, ... etc. Task Bar, from version 4.81!
(Image-1) Get a Windows Desktop Color, From-Tray !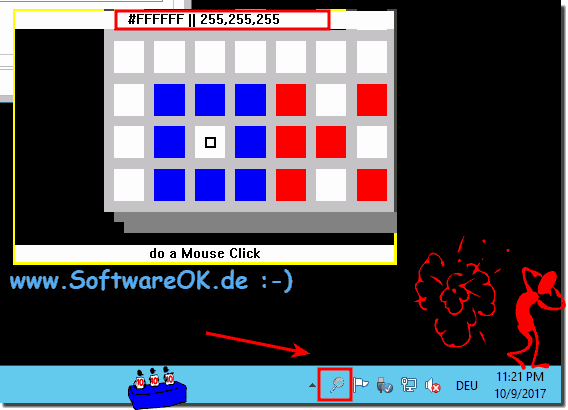 A simple Solution to get the desktop Pixel Color from your Windows Computer, easy to use from the notification area on you Windows PC and very useful not only for Windows 7 it is also for Windows 11, 10, 8.1, 8, 7: Pro, Home, Enterprise, Basic, Premium, Professional, Starter, Ultimate, Windows-Server 2019, 2016, 2012. 


The Color selector has an magnificent magnify factor in 10 x so you can easy select a specifically pixel on the PC screen.
Simply use the pixel color query, is really very simple and practical and cost really nothing at all. It is suitable for beginners and experienced Windows users, for all Windows Computers and it does not matter if it is a LED, LCD or plasma screen or monitor.