If you're using your Windows PC, you may find that many shortcut icons appear on the desktop!
The ► 
classic solution to hide desktop icons is known!
Hide the modern art desktop shortcut icons!
1. Start 
AutoHideDesktopIcons
!
2. Activate the option 
Thus, the desktop icons are displayed with the right mouse button and hidden when clicking with the middle mouse button. You can also
manually hide the
desktop icons
, but it's a little more elaborate! 
(Image-1) Auto hide and show desktop icons on Windows 10, 8.1, ...!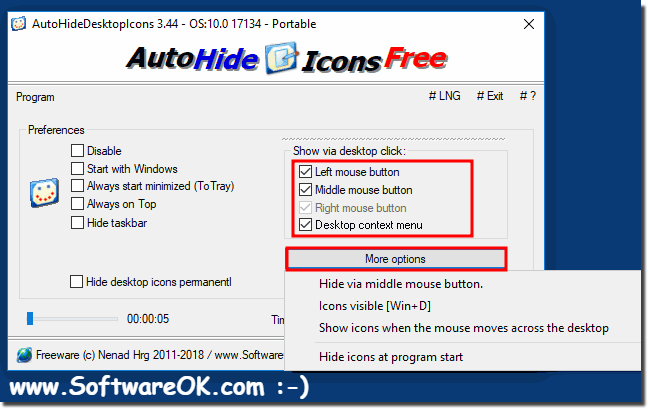 To hide your desktop icons because there are too many, you can also create a new folder on your desktop that stores icons. For example, you can divide your
icons into groups
(for example, programs, games, documents) and then move each group to its own folder. If your desktop is littered with many icons, you may want to quickly disable them without using the context menu. Here's a quick and easy way to create a
shortcut
to turn on and off does not have to be.Creating a shortcut, or
a hotkey to turn the desktop icons
on or off
is therefore unnecessary.