The function double click on an empty place to navigate up a directory can be activated!
Many thanks for the Q-dir, this is my MUST program on every PC that I have had so far.
Would you add the following function in the upcoming version: Double-click on an empty space, the directory will be moved up.
I think this will improve some convenience in navigation between directories.
If I am in D:\ Programs\ and double-click on an empty space in this view, I go back to D:\.


Please activate in Quad Explorer!


1. Start the Windows Quad Explorer Q-Dir

2. Menu ► Extras ► List View 

3. Simply activate this option

(... see Image-1 Point 1 and 2)


(Image-1) Double click at any blank space, the directory goes upwards!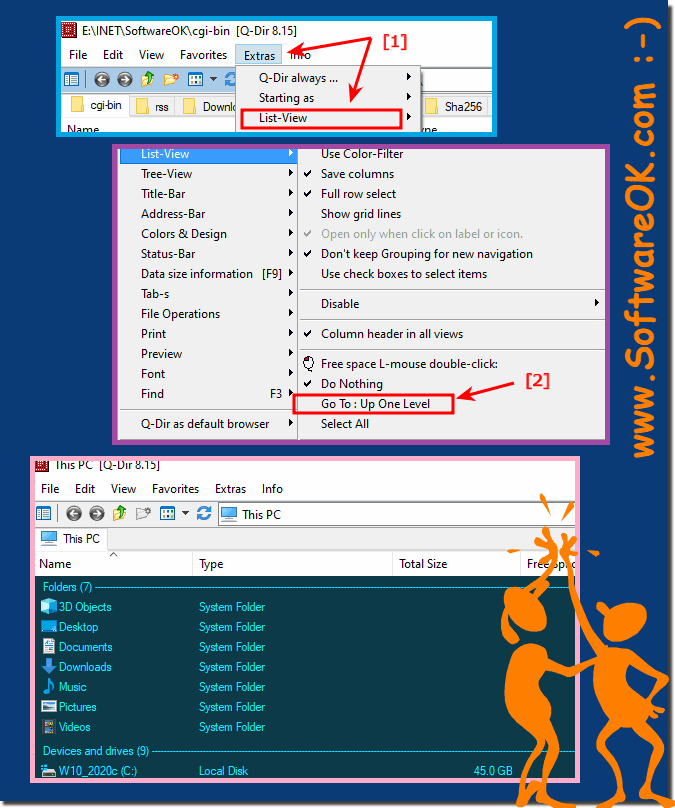 Double click at any blank space, the directory goes upwards on Windows 11, 10, 8.1, 8, 7: Pro, Home, Enterprise, Basic, Premium, Professional, Starter, Ultimate, Windows-Server 2019, 2016, 2012