If the MS Windows 11, 10, ... etc. OS mouse opens files with a click and you want to switch to double-click! 

In general, you have to open a file, folder or app on your Windows PC by double-clicking the left mouse button or right-clicking and selecting Open in the context menu. In this FAQ you will learn how to quickly open a folder and files with either a single click or a double click. 


1.) How to switch between the double-click and single-click method!
Start the Settings folder to change the mouse behavior!


A very quick solution that can be used is the command:
control /name Microsoft.FolderOptions

(... see Image-1 Point 1 to 5)



(Image-1) Help, with a click of the mouse the MS Windows files are opened!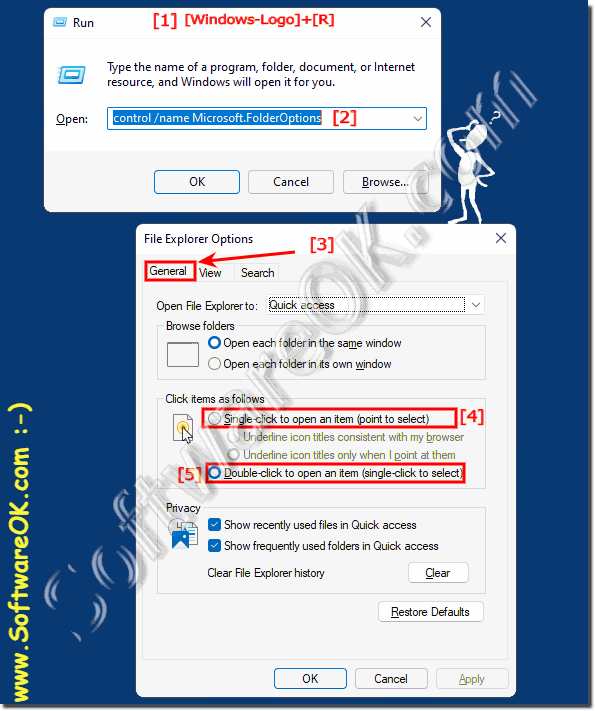 Sometimes users wonder why they have to click twice when they can click once after reinstalling Windows, change the setting "Double-click to open files" to "Single click".



2.) Step by step for Windows beginners!
1. Start the Control Panel 

2. F3 key and enter "explorer"

3. Open the Explorer Options

4. Set to Programs:

Single-click (selection by pointing) 

(... see Image-1 Point 1 to 5)

Optional:
[1] icon labels as in Underline browser
[2] Underline symbol signatures only when pointing



(Image-2) Click of the mouse MS Windows File-Explorer!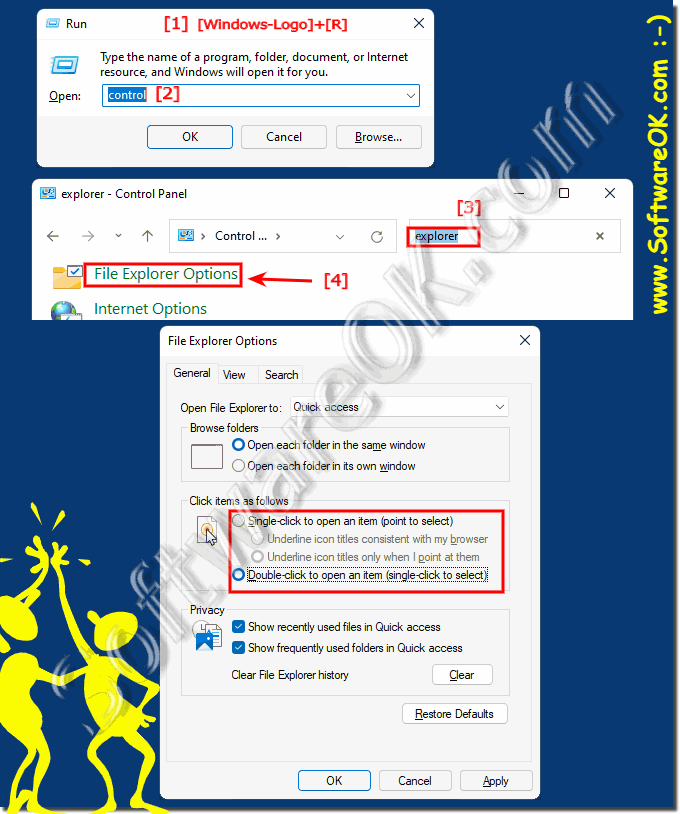 Or to start the programs in the classic way or to open documents with a double-click, this is an easy mouse-click here Change behavior at any time!




3.) More options with mouse click and Windows files open!






If you are having issues with your mouse or settings, here are some steps you can take to troubleshoot and resolve the issue:





Check for hardware problems:
Make sure your mouse is working properly. Try another mouse to see if the problem persists. Make sure the mouse buttons are not stuck or damaged.

If you use a laptop with a touchpad,
the tap-to-click feature can sometimes be too sensitive. You can disable it or adjust its sensitivity in the touchpad settings:
Go to Settings > Devices > Touchpad (or Mouse & Touchpad). Adjust touchpad sensitivity or disable tap-to-click if you want.

Update mouse driver:
Outdated or incompatible mouse drivers can cause unexpected behavior. Visit your mouse manufacturer's website and download the latest drivers if available.
Check for software conflicts:

Sometimes third-party software or background processes can interfere with mouse behavior. Try starting Windows in Safe Mode (press Win + R, type "msconfig" and select "Safe Boot" in the "Startup" tab) to see if the problem persists. If not, the problem may be caused by a third-party application.

Scan for malware:
Malware can also cause unusual behavior on your computer. Run a full system scan with your antivirus software to ensure your system is clean.
Create a new user profile:

Sometimes problems can be user specific. Create a new user profile and check if the problem still exists there. If not, the problem may be related to your user profile and you can consider migrating your data to the new profile.




Info:

If none of the above steps resolve the issue, you can try restoring your system to a state where the mouse was working properly using System Restore. Alternatively, consider using the Windows Repair or Reset options if available.
If the problem persists after following these steps, it may be a more complex problem and you may need to contact a professional technician.





FAQ 80: Updated on: 8 October 2023 15:50