Printing the directory structure

is very easy on Windows, not only in the new Windows 11 and 10, but also in the old operating systems, such as. 8.1 / 8.0 and 7!

Content / Solution / Tip:
1.) The printing of the directory tree under Windows!
Please start DirPrintOK and then simply select "Folder only" in the program!

(... see Image-1 Point 1 and 2)



(Image-1) Print only the directory tree ergo folder structure!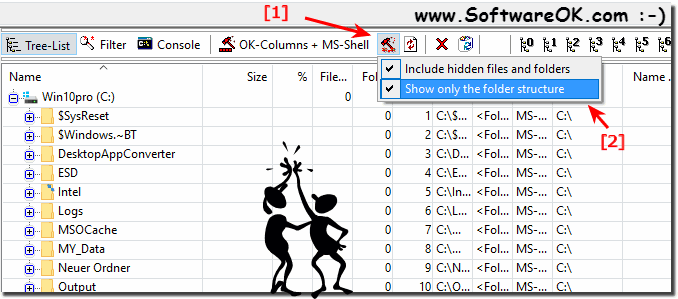 Info:


If you do not want to print files, but only folder structures, it is quite easy to set these options in the program, it is important that you make it in front of the folder, otherwise you have to wait again, until the directory is read. These settings are stored in DirPrintOK, so you do not have to adjust that every time. This is very easy for the directory tree expression, do not be surprised the new images of the screenshots have been made under Windows 10, but has no effect on these functions, as they can be used for all other operating systems of Windows, as well as Windows 7 , 8.1 and older operating systems eg XP, as well as Server 2016, 2012, 2008! 





Or: By activating the file filter, (... see Image-2 Point 1)

Filter the Content o a Folder before Print




(Image-2) Filter the Content o a Folder before Print or Export!



Often you want to print a directory, so get a list of the files contained in it on paper. But this tool should that work is no more a question: How to print the contents of a folder in Windows!
 




Here also simply activate the corresponding settings!




(Image-3) Simply activate the corresponding settings to print the folder content!


Then via the main menu in  DirPrintOK  on  "File" > "Print"


2.) More folder printing functions under Windows!

In  DirPrintOK  you can also use  the print preview before you print  !


Info:

Printing a list of files is hard work with Windows Explorer. In fact, it is almost impossible. Dir-Print-OK is a fast and efficient program that allows you to print a list of files located in any folder and in any number of subfolders. Easy to use and easy to configure. Besides being very easy to use, you can customize file lists to suit your own preferences. Lists only file names, or contains file size, date, time, path, extension, attributes, creation date and time, date and time of access. You can format your output as text, HTML, or as a delimited list.







FAQ 4: Updated on: 27 August 2023 12:12