It is easy to see the status of the SSD or HD, or to monitor the temperature of the hard drives or the technical condition!





 

Content:



1.) Status, temperature, condition of the hard drives
CrystalDiskInfo monitors the status and temperature of the hard drive health and monitors / graphically monitors the SMART diagnostic information. The program also shows you how often the hard drive has been switched on / off and how many hours it has been / is in use.

(

... see Image-1

)


Straight to the page: https://crystalmark.info/en/software/crystaldiskinfo/

OS: Windows XP, Vista, 7, 8, 8.1, Windows 10 MS Server 2003, 2008, 2012, 2016 and MS Server 2019

(Image-1) Monitor the status and temperature of the hard disk condition?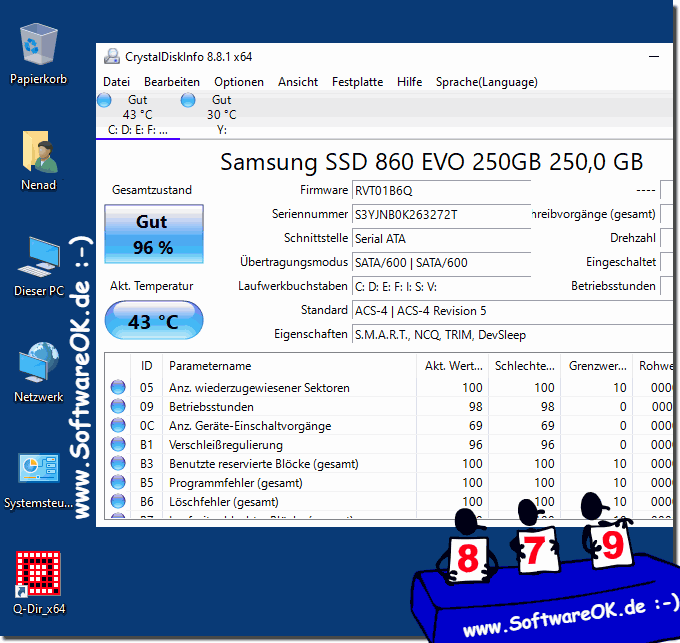 2.) Hard drives become warm or even hot during operation!
Hard drives are made up of mechanical components, including rotating platters and read/write heads that move across. This movement creates friction and requires energy, resulting in the generation of heat. The electronic components on a hard drive, such as the motor controller and cache memory, also generate heat when they work.
Power Consumption: Hard drives require energy to function. Some of this energy is converted into heat. Higher capacity hard drives or faster rotation speeds may consume more energy, resulting in more heat generation.
The airflow inside the case or computer can affect the temperature of the hard drive. If there is not enough air circulation, the hard drive can heat up faster. It is important to note that hard drives are typically designed to tolerate high temperatures. Modern hard drives often have temperature sensors and internal mechanisms to monitor and control temperature. If a hard drive gets too hot, it may slow down or even stop operating to prevent damage.
However, it is advisable to regularly monitor the temperature of your hard drives to ensure that they remain within safe limits. Overheating can shorten the lifespan of a hard drive and cause it to malfunction. Make sure your computer or server has adequate cooling to keep temperatures at acceptable levels, especially in environments with high hard drive activity.
FAQ 28: Updated on: 26 September 2023 19:53