The font reader button is not hidden, I use it for time optimization and testing!

The user question 
First of all, many thanks for your work on the
Font View OK program
.
The program is lightning fast and inspires me because I am a "font lover".
I would like to inquire about the purpose of the "Font Reader" button?
What can I do with it?


I am very fussy about program size and speed!
So a so-called millisecond counter!
Here I measure the time when reading in the fonts and try to optimize it as much as possible so that the key function is reached as quickly as possible and that is in Font View OK just reading out and listing fonts.
I run a similar effort in all of my programs as in the Find.Same.Image.OK case, since I only improved the image comparison algorithm for 3 days in order to get over 100,000 images per second.
Can you read here: ... the milliseconds  and such!
I am not finished yet because I have calculated that theoretically 10 million and more would be possible!



Back to the font reader!


As you can see, I measure the milliseconds even when reading fonts.
Is such a mania of mine "Fast is not fast enough"

So I measure the time here, that is 97 milliseconds for 300 Windows 10 fonts actually it should get faster maybe there is something else!
Just take a look.

I didn't hide the little measuring instrument, what a nice thing it is! After 2 years someone asked what that is!



(Image-2) I am a font lover but what purpose does the font reader button have?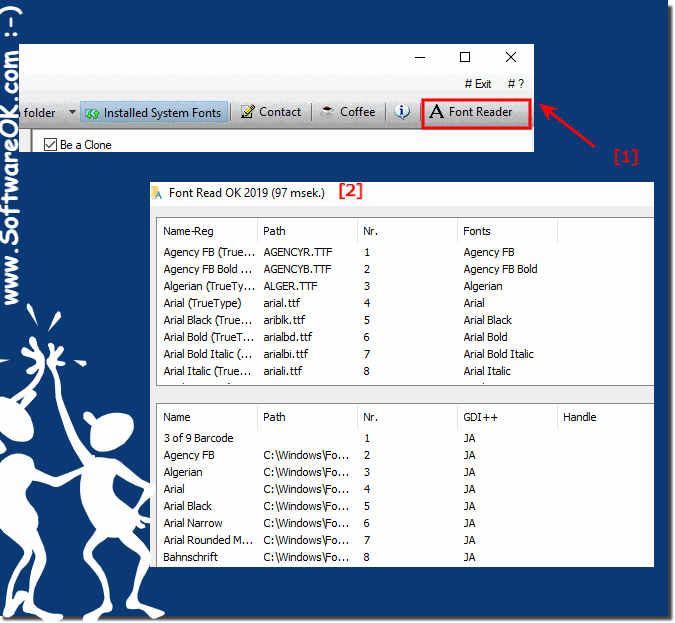 FAQ 10: Updated on: 29 August 2023 09:41