From version 4.11 it is possible to hide the title bar + menu and move the windows by right mouse dragging on the background!





However, this option must be activated in the Desktop Stop clock, in order to be able to use it as an optional function. Since there was only one user request for this useful feature, although this unique Windows stopwatch, which can also be used as a large desktop clock, has over 1,000,000 downloads by now, I did not want overload the rest of stop watch users, with this feature and I have made it optional!




Content:


Please use ... always the latest version of the Windows Stop clock.

1.) Activating the function!
Start the Windows Stopwatch as usual and open in: Main 
menu ► Hide program and title bar and menu ► Use this function 
So, the hardest part is done, now you can hide the title bar and the menu by right clicking on the stop clock. Very handy, because the anyway nice stopwatch looks even more elegant. 


(Image-1) Activate hide the title-bar and menu feature!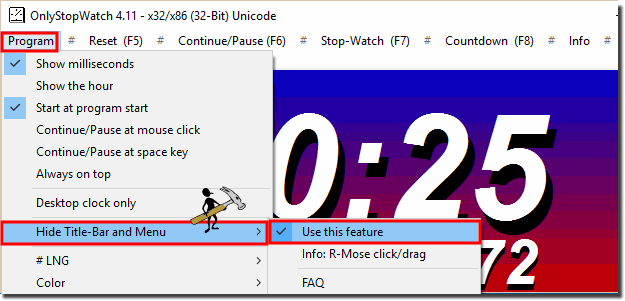 2.) Using the windows dragging feature on Windows 11, 10, ... etc.! !
However, if you hold down the right mouse button and dragging, the stopwatch window moves as if you are using the program's title bar to move it. 
(Image-2) Move without title bar by dragging on the window Background!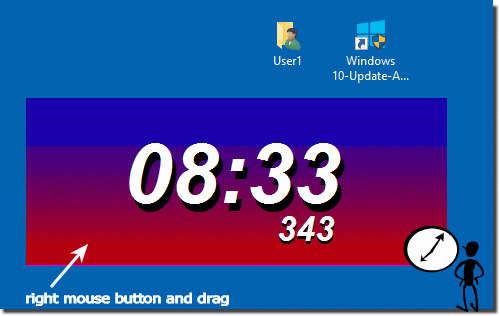 Info: When you right-click on the background, the menu and title bar are back. You can use it as usual in earlier stop watches versions. And change the size of the stop-watch window. Of course you can continue to use the stopwatch as a large Windows desktop clock , if necessary by pressing the F11 key in full screen mode, which is very convenient! 


3.) What purpose does this feature have?
This pretty simple but useful feature let you place the stopwatch anywhere on the desktop. The user with the suggestion for improvement uses it on a Windows PC with 8 monitors, where he can place everywhere, as in his case countdown timer, and in different colors. 
(Image-3) Windows count-down in different color!

FAQ 6: Updated on: 24 July 2021 09:23