Is it easy to prevent unwanted Windows 10 / 11 restart after downloading updates ?!
You don't need any famous
tools like Don't Sleep
to solve this problem, Microsoft was one step ahead and in the new Windows 10 has left the user the free choice of when to restart or reboot, so
a external reboot, restart blocker is
not necessary as a solution for these problems!
Content:
1.) Set the Windows to pause the update during important work!
1. Open the update settings in Windows 10
2. Enter
"update"
3. On option:
"Settings for Windows Update"
4. Now pause the update for 7 days in advance
5. Or the
"Change usage times"
(
... see Image-1 Point 1 to 6
)
PS:
Very practical in Windows 10, Microsoft thought far ahead and integrated the right options in the Auto Update to update the new Windows 10, whether the Home or Pro version, to make it even more attractive, which, by the way, is very commendable.
(Image-1) Plan to restart Windows 10 before downloading updates!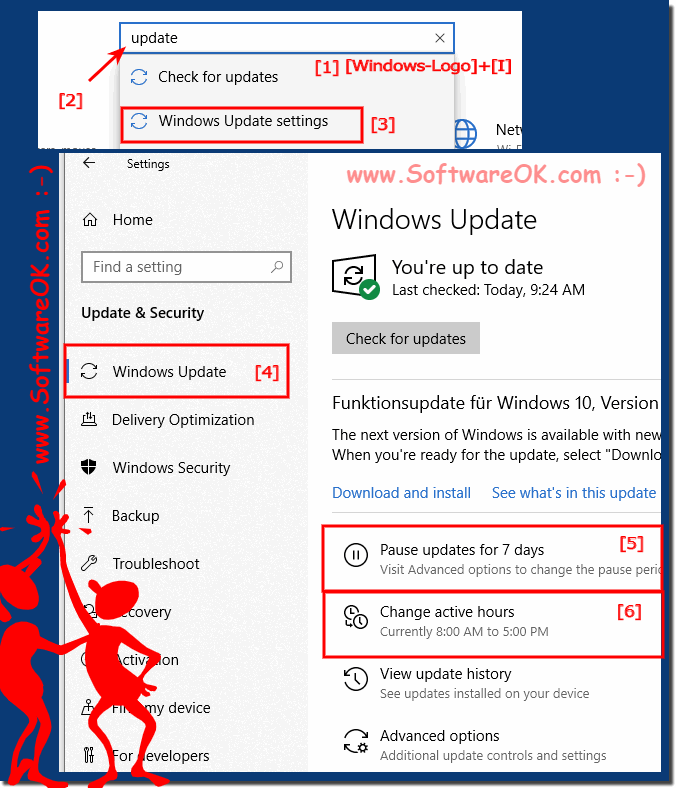 2.) What if it does happen, what can I do to avoid losing important documents?
As a rule, you get the warning / message that a restart will be made to complete the update, at this point you can delay it again for hours!