If you want to import from this side, or any text examples here, you can  import Commands / Texts in the program QTP from version 4.51 !
1.) Insert Text / Commands via clipboard on Windows 11, 10, ... !
1.  Please paste the text ergo commands into the clipboard like the Z-Menu as an example   

2. Easy in QuickTextPaste Main Menu ► Options ► Backup ► Import from Clipboard 

(... see Image-1 Point 1 to 3)



(Image-1) Import from the clipboard text and commands!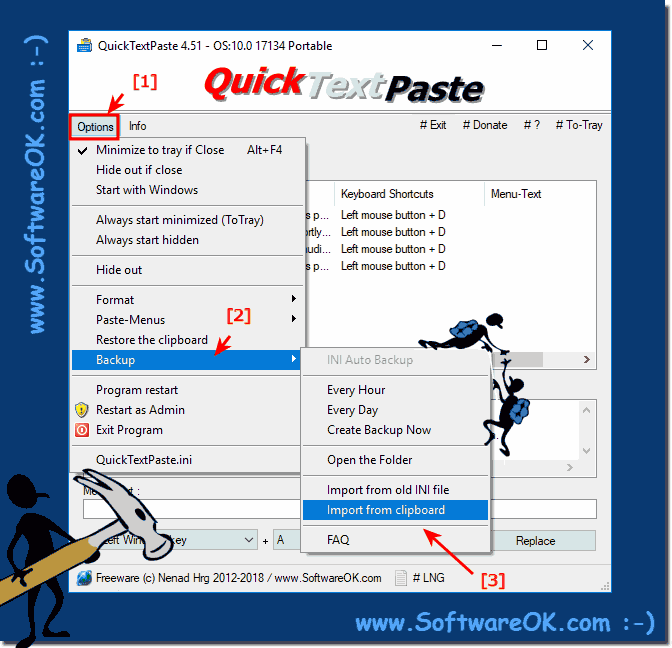 Info:

Adding Clipboard Text and Importing Windows Commands into QTP is a breeze as you can see above in Windows 10 shot screenshot. The nice thing about importing Windows commands from the clipboard to QTP is that you can use it without hesitation even on older versions of MS Windows operating systems, whether it's a Windows desktop, on the go on the tablet, Surface Pro / Go, or even a server Area as Admin on MS Web Server OS.


2.) Prepared Windows-Z menu as an alternative to the Windows-X menu!
(Image-2) Windows-Z alternative to Windows-X Menu!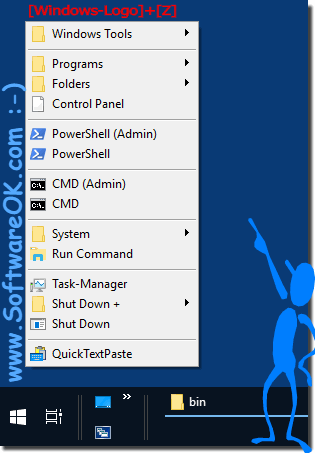 Import from the clipboard text and windows commands for: Windows 11, 10 , 8.1, 8, 7: Pro, Home, Enterprise, Basic, Premium, Professional, Starter, Ultimate, Windows-Server 2019, 2016, 2012 


[list_text]
text_000=L-Win+Z=runx:C:\Windows\regedt.exe
text_001=L-Win+Z=runx:msconfig.exe -2
text_002=L-Win+Z=runx:wfs
text_003=L-Win+Z=runx:calc
text_004=L-Win+Z=runx:notepad.exe
text_005=L-Win+Z=runx:wordpad
text_006=L-Win+Z=MenuBreak:
text_007=L-Win+Z=runx:"C:\Program Files (x86)\Microsoft Visual Studio 9.0\Common7\IDE\devenv.exe"
text_008=L-Win+Z=runx:D:\_surfok\PerlFeder\Ped3.exe
text_009=L-Win+Z=runx:V:\Microsoft Visual Studio\Common\MSDev98\Bin\MSDEV.EXE
text_010=L-Win+Z=runx:ncpa.cpl
text_011=L-Win+Z=runx:appwiz.cpl
text_012=L-Win+Z=runx:shell:SearchHomeFolder
text_013=L-Win+Z=runx:shell:CommonDownloads
text_014=L-Win+Z=runx:explorer.exe %Public%\Desktop\nexplorer.exe %UserProfile%\Desktop
text_015=L-Win+Z=runx:shell:Start Menu
text_016=L-Win+Z=runx:shell:MyComputerFolder
text_017=L-Win+Z=runx:shell:System
text_018=L-Win+Z=runx:shell:ControlPanelFolder
text_019=L-Win+Z=MenuBreak:
text_020=L-Win+Z=runa:powershell
text_021=L-Win+Z=runx:powershell
text_022=L-Win+Z=MenuBreak:
text_023=L-Win+Z=runa:cmd.exe
text_024=L-Win+Z=runx:cmd.exe
text_025=L-Win+Z=MenuBreak:
text_026=L-Win+Z=runx:appwiz.cpl
text_027=L-Win+Z=runx:devmgmt.msc
text_028=L-Win+Z=runx:compmgmt.msc
text_029=L-Win+Z=runx:diskmgmt.msc
text_030=L-Win+Z=runx:explorer.exe shell:::{2559a1f3-21d7-11d4-bdaf-00c04f60b9f0}
text_031=L-Win+Z=MenuBreak:
text_032=L-Win+Z=runa:taskmgr.exe
text_033=L-Win+Z=runx:%windir%\System32\shutdown.exe /r /t 0
text_034=L-Win+Z=runx:%windir%\System32\shutdown.exe /s /t 0
text_035=L-Win+Z=runx:shutdown.exe /l /t 0
text_036=L-Win+Z=runx:%windir%\System32\rundll32.exe user32.dll,LockWorkStation
text_037=L-Win+Z=runx:%windir%\System32\shutdown.exe /s /t 0

[list_label]
text_000=Windows Tools/Regedit
text_001=Windows Tools/Windows-Start
text_002=Windows Tools/Fax & Scan
text_003=Windows Tools/Calc
text_004=Windows Tools/Notepad
text_005=Windows Tools/WordPad
text_006=MenuBreak:
text_007=Programs/
text_008=Programs/Perl-Feder
text_009=Programs/6.0 Visual Studio c++
text_010=Folders/Network Connections
text_011=Folders/Installed programs
text_012=Folders/&Search
text_013=Folders/Downloads
text_014=Folders/Real Desktop Folders
text_015=Folders/
text_016=Folders/This-PC
text_017=Folders/System
text_018=Control Panel
text_019=MenuBreak:
text_020=PowerShell (Admin)
text_021=PowerShell
text_022=MenuBreak:
text_023=CMD (Admin)
text_024=CMD
text_025=MenuBreak:
text_026=System/Installed programs
text_027=System/Device Manager
text_028=System/Computer Management
text_029=System/Disk Management
text_030=Run Command
text_031=MenuBreak:
text_032=Task-Manager
text_033=Shut Down +/Restart
text_034=Shut Down +/Shut Down
text_035=Shut Down +/Logo Off
text_036=Shut Down +/Lock This-PC
text_037=Shut Down

[list_order]
text_000=102
text_001=103
text_002=104
text_003=105
text_004=106
text_005=107
text_006=108
text_007=110
text_008=111
text_009=112
text_010=114
text_011=115
text_012=116
text_013=117
text_014=118
text_015=119
text_016=120
text_017=121
text_018=122
text_019=123
text_020=124
text_021=125
text_022=126
text_023=127
text_024=128
text_025=129
text_026=131
text_027=132
text_028=133
text_029=134
text_030=135
text_031=136
text_032=137
text_033=139
text_034=140
text_035=141
text_036=142
text_037=143




FAQ 34: Updated on: 13 July 2021 09:42