Yes! Deleting without the recycle bin is possible by holding down the SHIFT key while deleting.



Content:



1.) The quick and easy deletion without recycle bin!
Tip:

You can also permanently delete items by holding down the SHIFT key while you drag the item to the trash.

DELETE + SHIFT = Delete permanently


See also: ►►  ... "Freeware SecureLoeschen"  ►►  ... "Freeware FingerWeg"



(Image-2) bypass the recycle bin when deleting!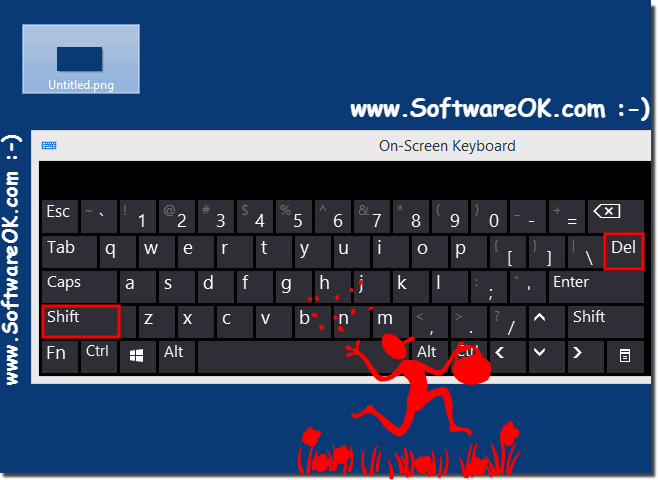 Information from (c) Microsoft
Overview of the recycle bin The recycle bin is a safeguard when deleting files or folders. If you delete such elements from the hard drive, Windows stores them in the recycle bin and the recycle bin symbol indicates that one or more elements are present are in the trash.
Items that are deleted from a floppy disk or network drive are not moved to the recycle bin but are permanently deleted.
Items moved to the trash remain there as long as




until they are permanently deleted from the computer. These items continue to take up space. The deletion can be undone at a later time and the items can be restored to their original location. When the Recycle Bin is full, Windows will automatically free up enough space by permanently deleting items in the Recycle Bin so that the most recently deleted files and folders can be moved to the Recycle Bin.

If you are running out of space, always remember to empty the trash. You can also limit the size of the recycle bin and thus limit the space it uses.

Windows assigns a recycle bin to every partition or hard drive. If the hard drive is partitioned or if the computer has more than one hard drive, you can specify a different size for each recycle bin.

To prevent the deletion confirmation message from appearing:

Right-click the Recycle Bin on the desktop, and then click Properties. Clear the Show dialog to confirm the deletion check box.
2.) More links related to deletion and such ...!



Everyone likes to delete files and folders under Windows 10, sooner or later you want to delete a file or folder in Windows, for example bad private photos or a particularly embarrassing digital photo. To delete a file or folder, right-click the name or icon. Then choose Delete from the pop-up menu. This surprisingly simple trick works for shortcuts, files, and folders, and almost everything else in Windows. To delete quickly, click on the object in question and press the Delete key. Dragging and dropping a file or folder to the trash does the same thing.



FAQ 36: Updated on: 4 September 2023 10:01