The possibility to
change Windows 10 Screen Saver

is a very useful and personal individual adjustment!



Here the solution to customize the screen saver settings for every Windows OS!


See also: ► Change Mouse Pointer and Cursor size ► create / enable guest account on Windows 10 
1.) Disable or change the Screen Saver in Windows 10 and others MS OS!
Please start the Screen Saver Settings, via [Windows] + [R] Windows 10 Run - Dialog and command:
control desk.cpl ,1 

or the command control desk.cpl,screensaver,@screensaver

here simply activate or change the Screen Saver for Windows 10. (... see Image-1)

Windows 10 comes with several screen savers. You can also create your own screen savers from personal pictures that you've saved on your computer, and there are screen savers available to download from the web.



(Image-1) Windows 10 Screen Saver settings!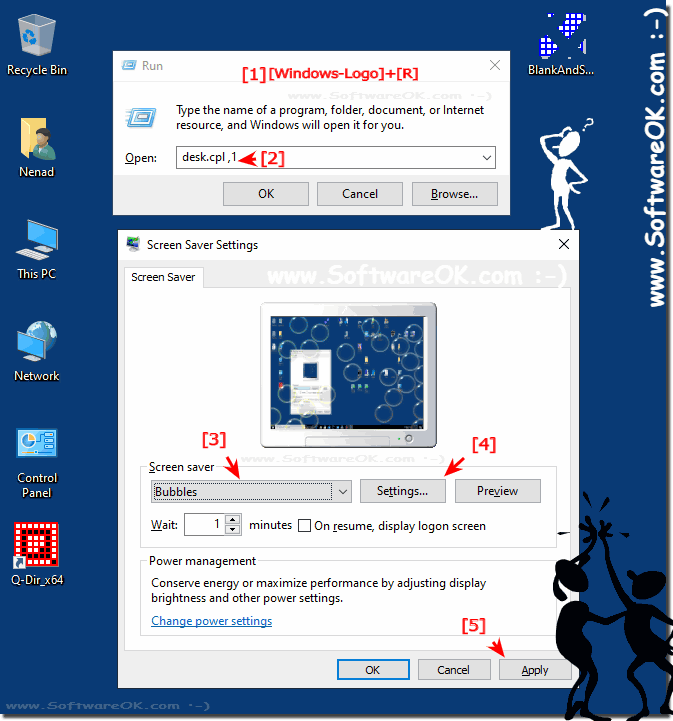 2.) Are screen savers still needed on Windows?
The monitors and flat screens used today no longer suffer from the problem of burn-in, which is the case with older monitors / screens. However, screensavers will still be used for your aesthetic and visual value, and will provide password protection for a computer if the user is not on the computer for a long time.




3.) Do windows screen savers save power?
NO! You save not energy and extend the life of your monitor! When you move away from your computer turn it off  instead of using a screen saver.



4.) Related screen saver pages!
FAQ 114: Updated on: 18 May 2020 11:41