The solution is simple to find, start and run the Troubleshooting in Windows-10?


You can find the Troubleshooting Tool in Windows 10 Control Panel, this tool contains several troubleshooting programs, that can automatically fix some common problems.

The Run Command for Windows 10 Troubleshooting  is: 

control.exe /name Microsoft.Troubleshooting

to start it from the useful Windows-10 Run Dialog keyboard-shortcut Windows+R.

Fix the problems with programs, Hardware, Sound, Network and Security etc. (... see Image-1)

See also: Remote Desktop Connection || Shortcut for Device Manager on Windows-10 || Autologin  on Windows-10 



(Image-1) Useful and easy Troubleshooting on Windows-10!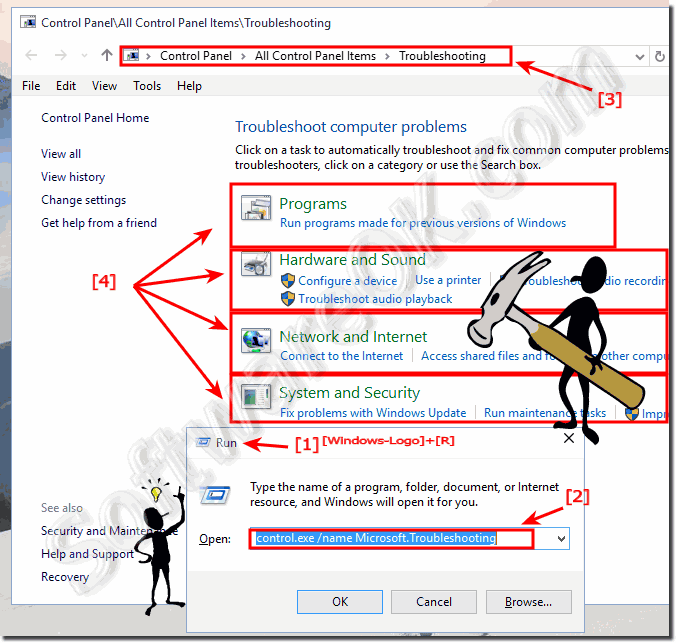 Useful infos from (c) Microsoft:

When you run the Windows-10 troubleshooter, it might ask you some questions or reset common settings as it works to fix the problem. If the Windows 10 troubleshooter fixed the problem, you can close the troubleshooter. If it couldn't fix the problem, you can view several options that will take you online to try and find an answer. In either case, you can always view a complete list of changes made.

Notes:
If you click the Advanced link on a troubleshooter and then clear the Apply repairs automatically check box, the Windows 10 troubleshooter displays a list of fixes to choose from, if any problems are found.

Windows 10 includes several troubleshooters, and more are available online when you select the Get the most up-to-date troubleshooters from the Windows 10 Online Troubleshooting service check box at the bottom of Troubleshooting. (Depending on your system settings, this might be replaced by the Do you want the most up to date content available for troubleshooting on Windows 10?



FAQ 94: Updated on: July 16th 2015 17:10