There are various reasons why MS Windows 11 or 10 starts slower, here are tips that will give you a simple cause or solution to the problem!


Speeding up a slow PC running MS Windows 10 or 11 is one of the most important tasks of any user who wants to keep their system fast and clean! 


Contents:




1.) The autoupdates are in progress!
If Windows is just updating, it is normal that the start takes a little longer, because other things are being installed here and the system security is being increased, if this is the cause, simply restart Windows 11. And compare the start time!

Please press the Windows key combination

[Windows logo] + [D]  to see the desktop. Then please press the key combination

[Alt] + [F4]  and the 'Windows shutdown' dialog box will appear.

Select "Restart" and confirm with the OK button





2.) Check the Windows Autostart folder!
Autostart programs can make the system slower, so a look at the programs, applications, ... that are started with Windows 11 is not wrong! 




3.) Optimize the drives under Windows 11!
Disk optimization can help make the system faster, you can get better hard disk speed. SSD drives do not need to be defragmented, optimizing or fragmenting will not improve them!

If you have problems with the optimization under MS Windows OS:
4.) Windows 11 anti-virus software is slowing down the system!
There are many anti-virus programs that are almost all identical, but there is also increasing evidence that some candidates slow down the system and can greatly slow down Windows 11 startup. 
Uninstall the antivirus software and test it with the standard Windows 11 protection, if there are serious differences, you should think about another antivirus program!
For this:
5.) Free up disk space on the drives!
The release of unnecessarily occupied memory can also help with this problem, unnecessary data on the hard disk really does not have to be! 
6.) Scan for Malware and Adware!
Windows 11 scan is also a method, but it is very rarely successful because the viruses have a really hard time infecting the system. Landing a hit here is very rare. And if you do, it's probably too late!
7.) Uninstall programs you don't use!
Removing unnecessary applications is very important, the fewer running in the background or unnecessarily taking up memory the better.  



PS:
If you cannot uninstall a Windows 11 application, it is often due to the required rights, contact the system administrator


8.) Reset your PC or reinstall Windows 11!
A reset to factory settings is sometimes the last option in the event of serious problems before you dare to do a complete new installation of Windows 11, expect, ...!





9.) More tips on "getting faster" in Windows 11!




Depending on the device, starting with the quick start of Windows 11 can start the system in 1 to 3 seconds, but with old PCs without an SSD it can also be 10 or more seconds! 






(Image-1) Slow startup windows 11 or 10?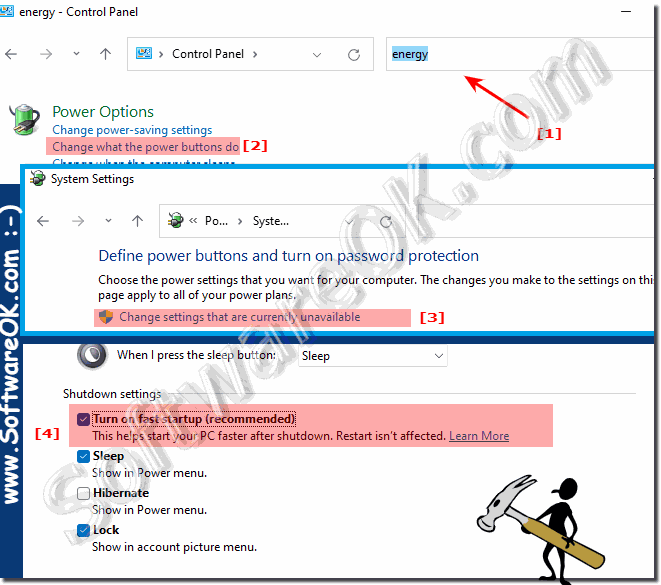 FAQ 209: Updated on: 26 August 2023 07:14