The keyboard shortcut CTRL+ALT+DEF when logging in to Windows can be activated and deactivated at any time!


You can provide increased security on Windows 11 and 10 that users must press Ctrl+Alt+Delete before signing in. This ensures the display of the authentic MS Windows OS login page and protects the system from programs that attempt to retrieve password information by displaying a login.



 

Content:




1.) Activate / deactivate Windows 11 CTRL+ALT+DEL at login!
1. Launch the User Accounts APP with control userpasswords2


2. Go to the Advanced Tab

3 Secure sing-in group box, activate "Require users to press Ctrl+Alt+Delete"

(... see Image-1 Point 1 to 5) 




(Image-1) Ctrl+Alt+Delete when sign-in on Windows 11 or 10!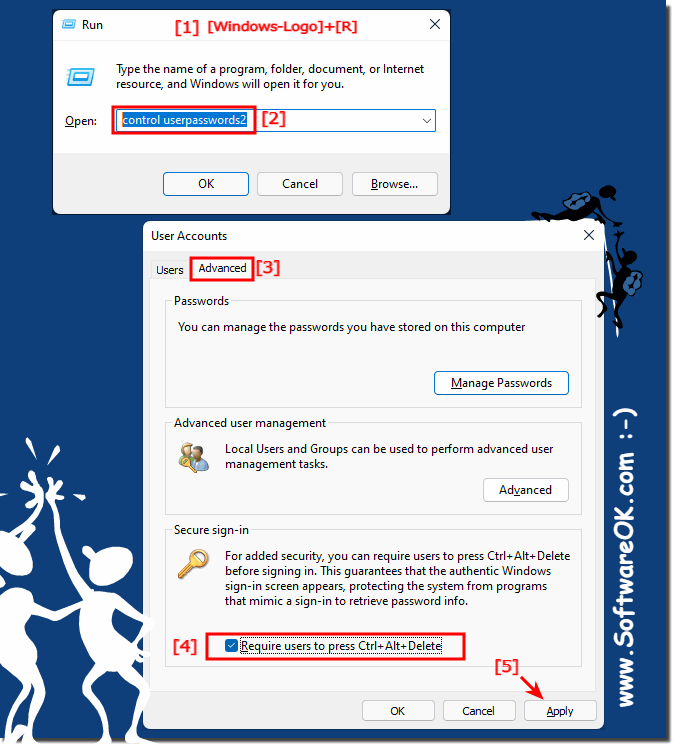 2.) More tips login security and such ...! 





Security is also important under Windows 11, regardless of whether it is a Microsoft account or a Windows 11 local account! Login is not so important for home PCs, but for public ones, it is already considered that the Windows 11 PC is not accessible to everyone.





FAQ 55: Updated on: 23 September 2022 18:58