Yes, you can use Windows 11 without an Microsoft Account / Registration, from Windows 11 Pro version this is possible!
If your computer is
not connected to the network
, you can run Windows 11 without any problems. No questions are asked, just enter your e-mail and assign a password and you're ready to go. Then comes the picture shown below! Similar to earlier "
Lean back and relax
", but afterwards it goes fast too!
1.) Windows 11 when installing without an MS account!
1. After the selection of the hard disk and the 10 minute installation!

2. First additional options appear and at some point you come to the account selection

3. Go  to Sing-in options

4. Select  offline account in the login options

5. Confirm  "Don't Sing in with a Microsoft account"

6. And simply enter the local user / login name

... The trick with the Shift + F10 key!

  

<<< Required in Windows 11 from 2022

 





Info:
So now you have a local account on your Windows 11 during the installation. However, it should be noted that Windows 11 will keep trying to persuade you to sign up for an MS account, which will ultimately happen in order not to be asked every time whether you want to switch to one!

 



(Image-4) Use Windows 11 without Microsoft Account!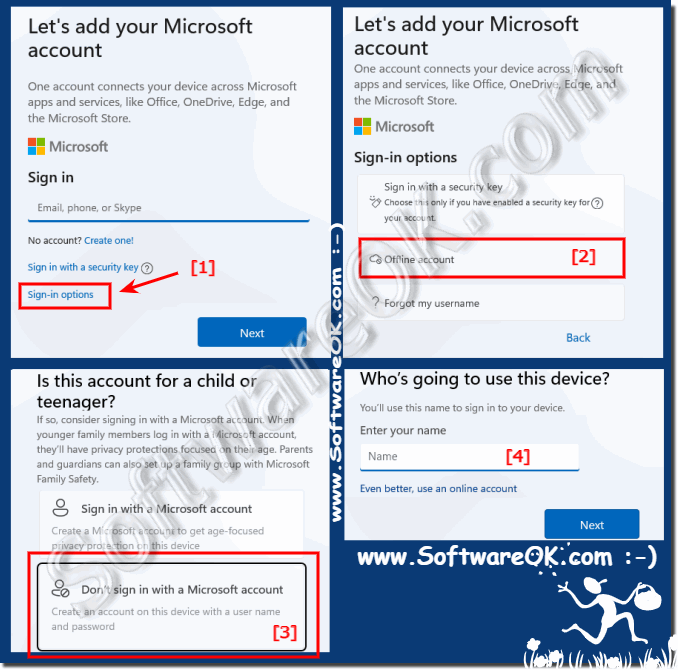 2.) Subsequently switch to the local account under Windows 11!
1. Open the Windows 11 settings as always  ( Windows + i key)

2. Go to  Accounts  ► scroll on the right to option  Your Info

2. Scroll to Microsoft Account 

3. And just click on log   in with a local account instead

Then you will be asked whether you are safe and you have to assign a password

(... see Image-2 Point 1 to 5) 



(Image-2) In Windows 11 Microsoft account to local user account!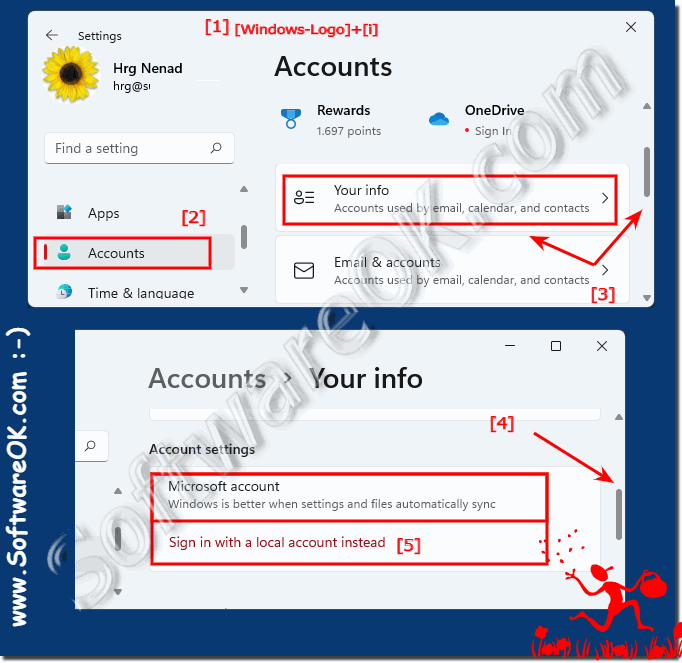 3.) More information about the local account and general information!

Once you have understood  the advantages and disadvantages of a Microsoft account  , it is only important for the Microsoft Store and the apps it contains, what type of account you use. But you can usually switch at any time, or use different accounts on a Windows 11 computer!  




Windows 11 Home with a local account!

Even with Windows 11 Home you can use any email when offline. Then there may be an error message, but with the option to create the local account!




4.)  ... Addendum Home Version Windows 11 Offline and the local account!


With the offline installation, Windows 11 actually requires the internal for a short time! 

1. Connect the computer to pass this step 

2. Then it goes far, disconnect the Internet again immediately

3. Error message comes "Something is wrong"  or "Something went wrong "

4. You can  skip this (This is on a german PC)

( . .. see Image-4 Point 1 and 2 ) 

And the home version of Windows 11 with a local account set up the obligatory confirmations come, but it is an offline account! 

►►  Difference between local users and Microsoft accounts under Windows 11, 10, ...?




(Image-4) Windows 11 Home even without an MS account!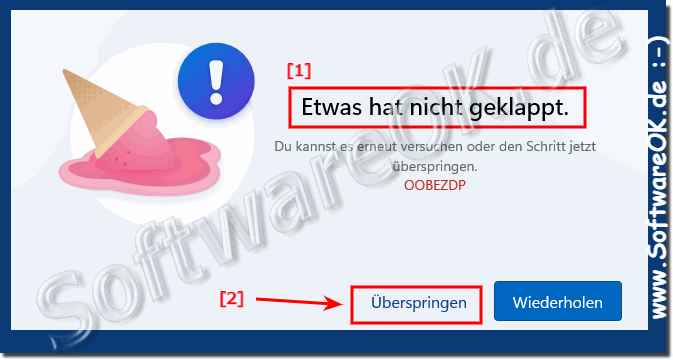 FAQ 8: Updated on: 7 July 2022 15:09