The first time you have discovered the
WDAGUtilityAccount

as a user under Windows 11, 10, .... , you think you have discovered a virus or trojan!


Windows Defender does its work on the operating system. When enabled, you can safely surf the Internet in a new session without the fear of ransomware and other threats. The WDAGUtilityAccount is therefore not malware or something malicious and should be left alone, nor should you try to delete it!


1.) Check via Powershell!
1.
Start Powershell
 Windows + R command
"powershell"
2. command:
net user
(
... see Image-1 Point 1 and 2
)
(Image-1) What is the WDAGUtilityAccount for a user?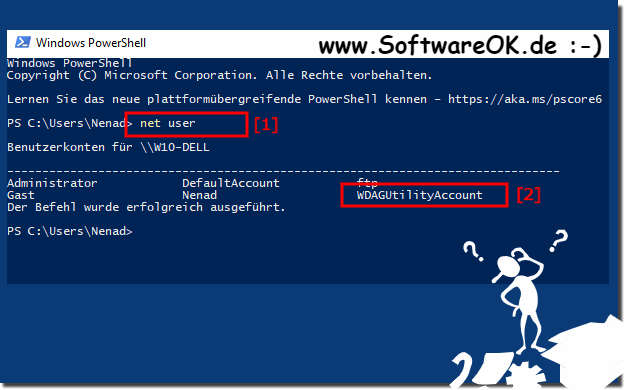 2.) Check via the local user groups 
1. The command
lusrmgr.msc
(start local users and group manager) 
2. Select the folder User
(
... see Image-2 Point 1 to 4
)
The
WDAGUtilityAccount
user is deactivated by default and is used by Windows Defender , created, used, ..... 1   
(Image-2) WDAGUtilityAccount a secret user account under Windows 10/11!