There are many lists on the internet of the best free writing software for Windows 11!

You can use all of this software for both general and creative writing purposes with a variety of tools on offer. All of these programs have some specifics that you need to be aware of. However, you can still use the free Windows 11 text writing program WordPad to write short texts!


Content:
1.) Start the Windows 11 text writing program!
1. Start the text writing program with the keyboard shortcut: 
Windows + R
2. And command 
wordpad
 confirm 
3. And they write Free short texts and letters 
(
... see Image-1 Point 1 to 3
)
(Image-1) Start the text program on Windows 11!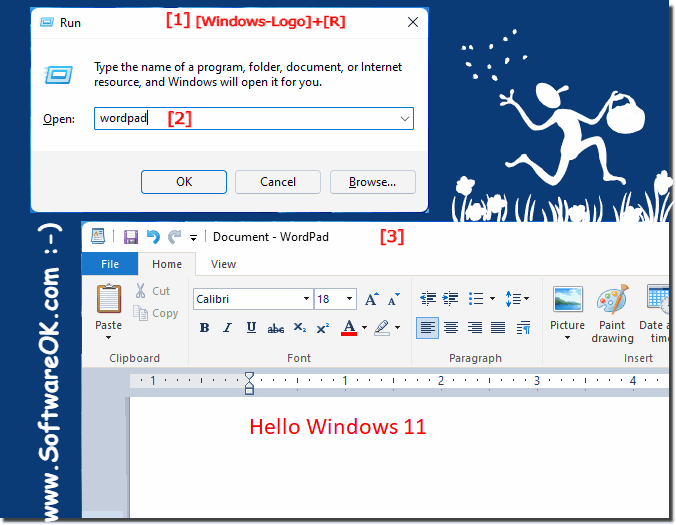 2.) Further information about text writing programs and the like!
Although it is convenient that the Windows 11 comes with a word processing application called "Microsoft WordPad" by default. WordPad is a simple word processing software that provides basic features for creating and editing text documents. However, it is important to note that WordPad is not as powerful as
Microsoft Word
, which is part of Microsoft Office and is typically paid for.
However, if you are looking for a free alternative to Microsoft Word, you can consider LibreOffice or Apache OpenOffice, for example. These open source office suites offer word processing software for example: LibreOffice Writer and Apache OpenOffice Writer, which supports many of the features of Microsoft Word and is available for free. You can download these office suites from their official websites and install them on your Windows 11 computer.
LibreOffice:
https://www.libreoffice.org/download/download/
Apache OpenOffice:
https://www.openoffice.org/download/
Once installed, you can use these programs to create and edit text documents without having to pay.