It is quick and easy to format a USB data carrier under Windows 11, 10, ... etc., as well as under MS Server 2022, 2019, ... OS!
Content:
1.) Quickly format the USB data carrier under MS Windows OS!
1. Insert the USB stick or the external hard drive into the USB port
2. Start the File Explorer with
Windows + E
and mark the
removable data carrier
3. Right-click on the selection menu and select
Format
4. In the format dialog, click change the appropriate format (NTFS, Fat32, exFAT)
4.
Start
formatting with the
Start button
5. Confirm the message "Data will be deleted ..." with OK
(
... see Image-1 Point 1  to 7
) 
When you have it on quick format it is a quick story, the disk is formatted in seconds. So that you have the feeling that it was not formatted correctly!
(Image-1) Formatting USB data carriers under Windows 11 ...!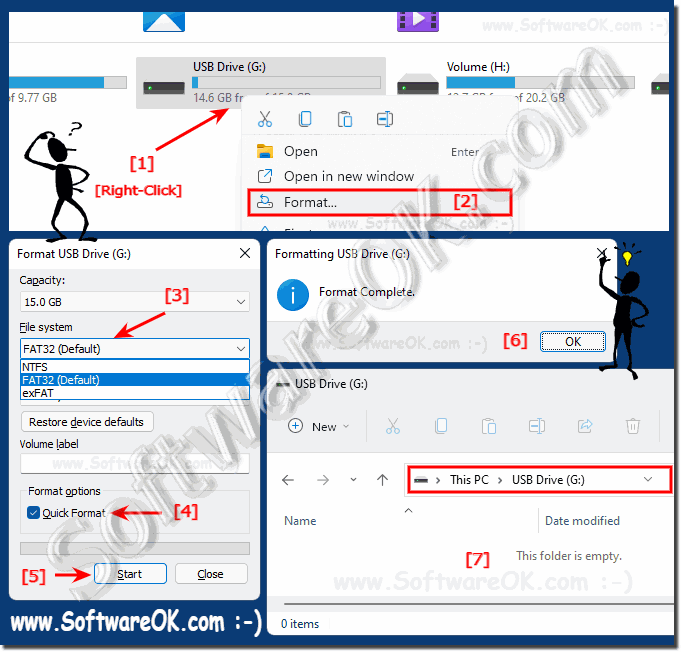 2.) More tips on formatting and Co. on MS Windows OS!
Data carriers, various media, ... are the things that you deal with very often under Windows 11, especially with major system updates, the data carriers are not recognized correctly. A correct restart of Windows 11 often helps. But as with all Microsoft Windows 11, 10, ... desktop and/or MS server operating systems, it is not always that easy to get various data carriers under control, which is all the more important to always keep an eye on them. You never know when you'll need another one quickly. Here you will find further links and tips on the subject of formatting, data carriers and the like that can help you!
Just click through and find out: