Sometimes you may need to convert images PNG, JPG, ... to PDF format, it's pretty easy on Windows 11 and 10!
Converting photos, images, ... to a PDF document is really easy under Windows 11!
1.) Convert image file to PDF under Windows 11 in Explorer!
1. Navigate to the folder with the photo / images
2. Select the JPG images that are to be converted into a PDF file
3. Right-click in the menu on
"Show more options"
4. Then simply select / click
Microsoft Print to PDF
 printer 
5. With a click on the
Print button
, the JPF images are automatically converted to PDF
6. All you have to do is enter the file name for the PDF file. All JPG images are then in a single PDF file.  
Don't forget: ►► 
In Windows install the integrated PDF printer driver!
(Image-1) Convert JPG image file to PDF under Windows 11!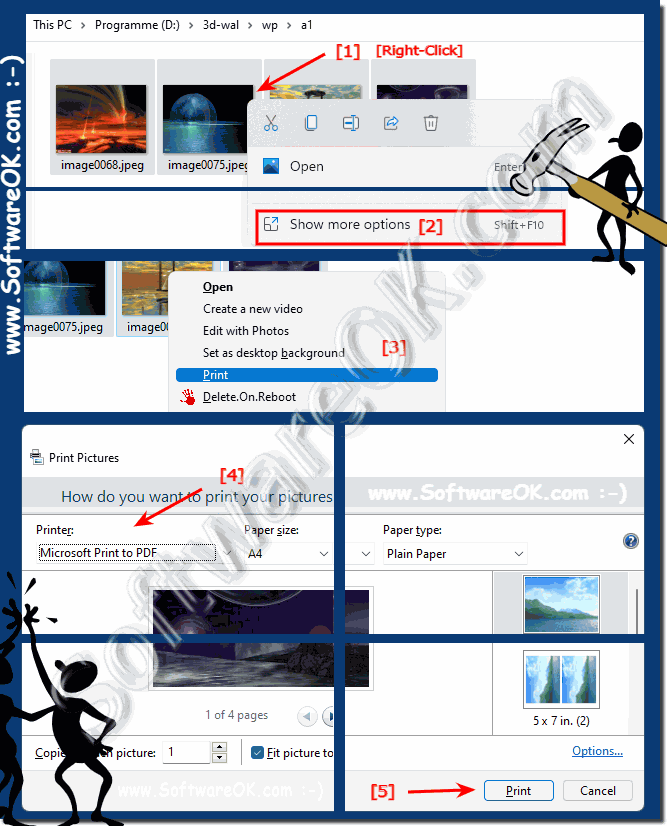 2.) Convert images to PDF with external tools!

1. Start the WinScan2PDF - change to Multiple Pages Scan. 

2. Drag one or more images into the list view of WinScan2PDF

3. Then press the to PDF button

(... see Image-2 Point 1 and 2)

More text: ►► Jpeg to PDF, just do it with WinScan2PDF!


(Image-2) Convert JPG image file to PDF under Windows 11!