It is easy to have Control Panel with All Control Panel elements as a shortcut on Windows 11 or in Windows 11 Start!

There is a command via the command line to access the control panel in the desired option: Shell: ControlPanelFolder There are really many possibilities under Windows 11 to determine in which view the control panel itself should appear. With this you can create a shortcut for the control panel and pin it to the start menu!


1.) Under Windows 11 the control panel as a desktop shortcut!
1. Start the Windows 11 Run Dialog
Windows + R
2. Enter the command 
Shell:ControlPanelFolder
3. Pull directly a
desktop shortcut
(drag and drop)
4. Rename it as:
"Control All"
5. After that, without detours
pin
to the
start menu
(
... see Image-1 Point 1 to 5
)
Sometimes good things are very simple, it is no different under Windows 11!
(Image-1) Control Panel - All Control Panel Items Shortcut Windows 11!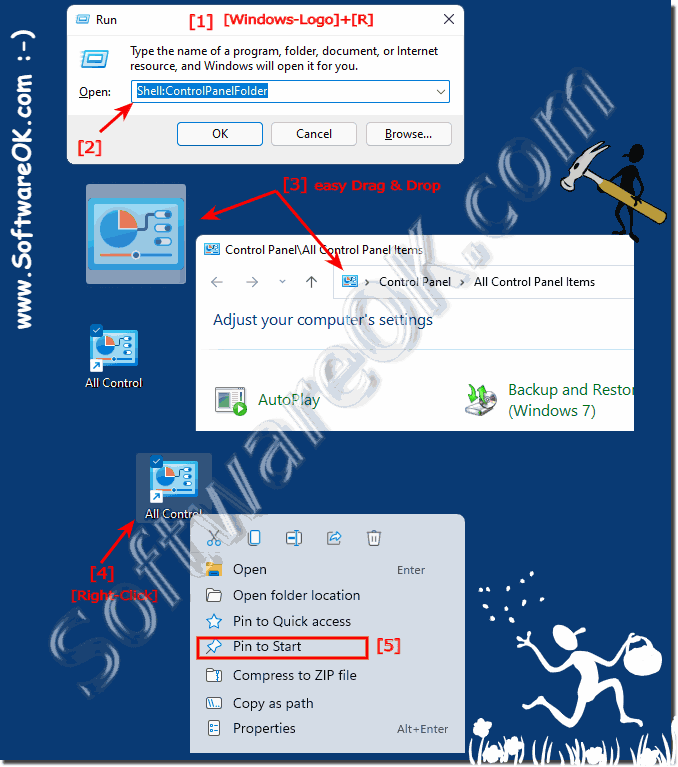 2.) More information about Windows 11 system and settings!
Even if the Windows 11 Control Panel under MS Windows is becoming less and less important, it is still an important part to make important system settings! Not everyone is enthusiastic about the changes in MS Windows, the valuable time should be invested in performance and not in the design competition WITH Mac-OS, which is not a real OS!