The commands from the CMD.EXE ergo the Windows command prompt can be exported to HTML, or RTF at the touch on a button.


If you want to export the command prompt, easy start the ColorConsole and export to RTF or HTML Document file , export via HTML or RTF button. (... see Image-1)

A temporary HTML or RTF file is created, which can be used for later evaluation or for presentation purposes. Here I have waived a filename query, because I find it quite annoying, for example, if you have to come up with a file name every time at export. 

For this reason, a push of an export button. Without if and but and the export file RTF, or HTML presents prompt itself in full size and color with you command prompt contents. 



(Image-1) Export the command prompt to a File!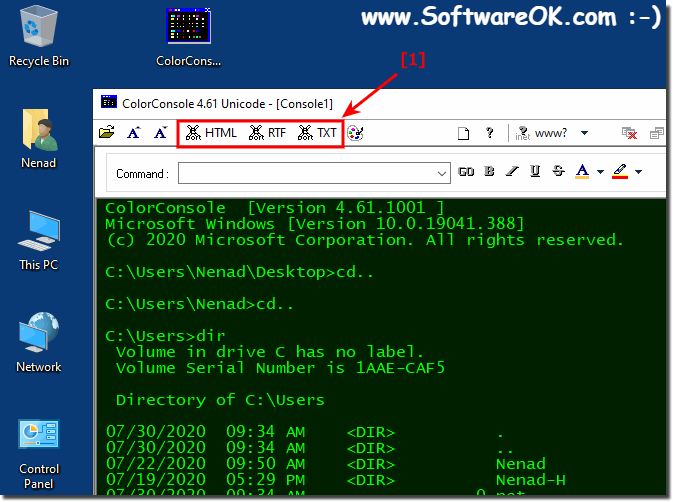 If you want to underline areas of the Cmd command output, eg for teaching or presentation purposes, you can do this directly in the ColorConsole before exporting. This saves a lot of time. A little hint: The ColorConsole has full copy paste support, unlike the standard CMD.EXE. Thus, complete output texts or only partial areas can be copied directly. Yes, even with the complete color syntax. In short, there is an enormous time saving potential in this oh so small and inconspicuous command prompt extension for windows.

Please use ... the latest version of ColorConsole

FAQ 1: Updated on: 27 April 2018 19:31