The solution is very simple to reset LG LED TV to factory settings or to reset the device (eg: on the LG 49LH570V or 43LH570V)!
Content:
1.) LG to factory settings!
Please turn on your LG LED TV and press the settings button. Usually this is marked with a gear!
Now scroll on the left side to the point  
General
  (with the arrow keys up and down).
Now switch to the right side with the arrow keys (right-left) of the LG remote control!
On the right side scroll down to the point
Reset to factory settings
!
(with the
arrow keys
up and down on the LG-LED-TV remote control 
you cannot immediately see that the right area has further setting options.
(
... see Image-1 Point 1 and 2
)    
(Image-1) Reset LG LED TV to factory settings?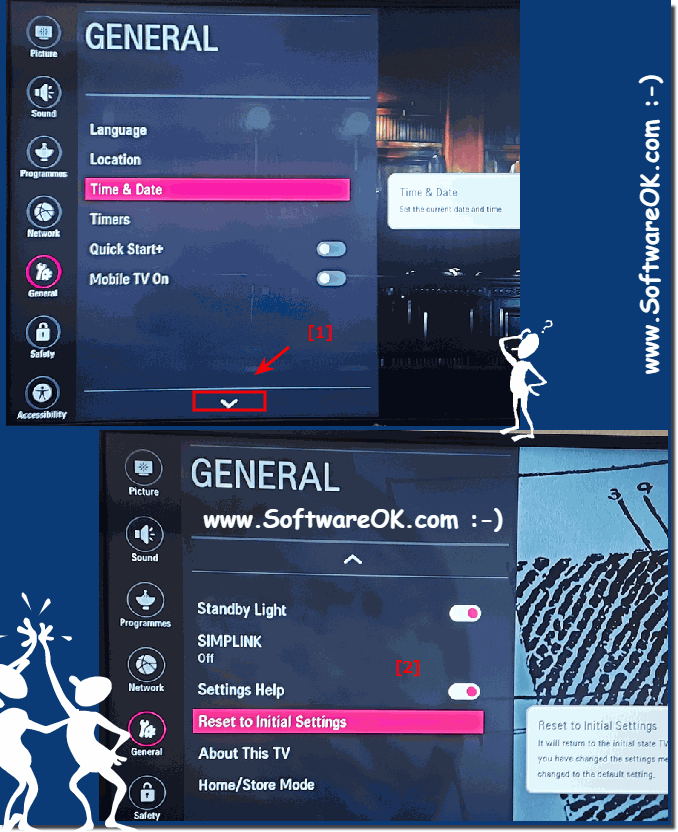 2.) More tips on factory settings and Co.!
Resetting to factory settings is sometimes the best option if you have made a lot of settings in the configurations and just want to start over. Many problems disappear as soon as you reset to factory settings, which is the case with many devices. Here you will find more tips on the subject of resetting and Co. just click through, maybe you will find out something new that they do not edge like this or simply to prevent the problem.
3.) What dangers lurk when resetting the TV to factory settings!

Resetting a TV to factory settings can be useful in some cases, but it can also come with some potential dangers and drawbacks. Here are some things to keep in mind:




Data Loss:
A factory reset typically erases all saved settings, apps, user profiles, and personal data on the TV. Make sure to back up important data such as login information, Wi-Fi passwords or settings before performing the process.

App loss:
All downloaded apps and games will be deleted and you will have to install them again. This can be time-consuming, especially if you have a lot of apps or certain apps are no longer available in the App Store.

Firmware updates:
If your TV is reverted to an older firmware version after a factory reset, you may lose some features or security updates that are available in newer versions.

Possible restore problems:
Depending on the make and model of your TV, you may have problems restoring to factory settings. This may cause the TV to not function properly.

Security:
If you provide personal information, such as: If you do not properly delete login details for streaming services, for example, this information could fall into the wrong hands.




To minimize these potential dangers, before performing a factory reset, make sure you can back up all important data and take the necessary steps to restore your TV. If you are unsure how to do this, it is advisable to contact the TV manufacturer or technical support for assistance.





FAQ 49: Updated on: 5 October 2023 16:57