Under Windows 10 it is easy to place the trash in the new start menu on Home and Pro version!
Everyone notices that the Recycle Bin is missing from the Windows 10 Start menu. However, if you want to keep your desktop clean and do not want to use the
Recycle Bin on the Windows 10 desktop
, you can do so by moving the Recycle Bin to the Start menu. By the way, it's handy if you work on different documents and do not want to
switch to the desktop
to
open the Recycle Bin
. You can easily access it from the Start menu.
1. Start the MS Explorer 
2. Type in the address bar the command
shell:RecycleBinFolder
3. Open, right-click the Options menu from the trash
4. Select "Pin to Start"
(
... see Image-1 Point 1 to 5
)
(Image-1) Place the recycle bin in the Windows 10 Start menu!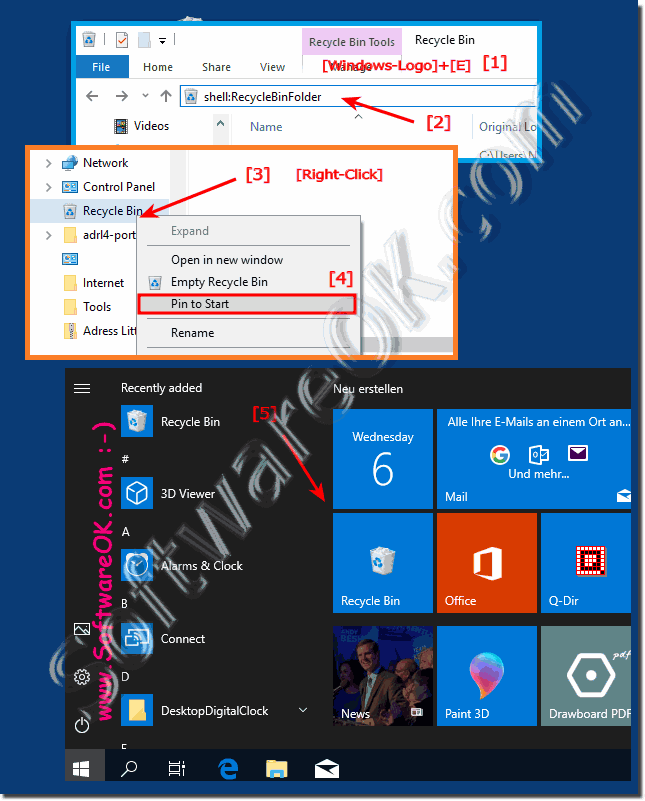 Right, a simple tip that will allow you to see your trashcan in the Windows 10 Startup menu.
However, one caveat is that you can not empty the
Recycle Bin
after moving it to the Start menu.