One of the new features of Microsoft's Windows 10 / 11 is the ability to
create virtual desktops

!

Virtual desktops provide the ability to distribute all the windows of open applications, or programs on multiple desktops and better organize the APPs and desktop programs, so as not to lose overview of many open program windows.

1. Use the 

Windows key

 + T

ab

, you can switch directly to the next desktop.

2. Click on the appropriate desktop, you can switch directly to the relevant Windows 10 Desktop. 

3. Click or Tap on the [X] Button, and you can close an existing desktop 

Or create a new Windows 10 / 11 virtual desktop: "New Desktop" [+]

(

... see Image-1 Point 1 to 3

)

Tipps:

Press

Windows + Ctrl + D

to directly open/create a new virtual desktop from the keyboard!

With

Ctrl + Windows + arrow keys

(right and left) you can switch directly between the open desktops!  

(Image-1) Hotkey Switch between virtual desktops in Windows 10!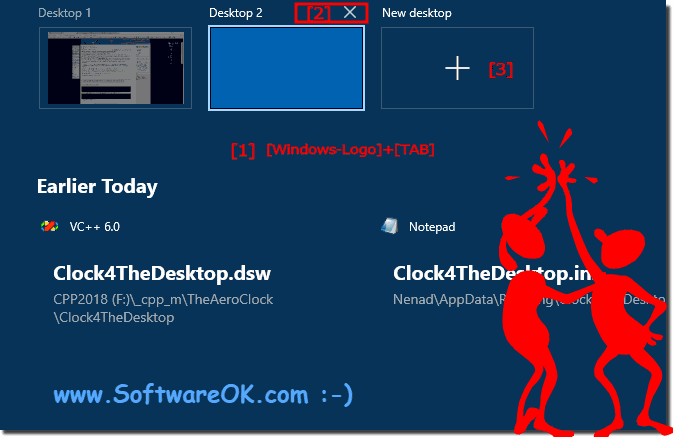 Simply hold down the 
Windows key
 and press 
Tab
 the rest is almost self-explanatory under Windows 10!