It's easy to download a Scan to PDF Tool for Windows for free and use it as a full version on Windows!
Contents:
1.) One of the Best Scan to PDF Tools for Windows!
The installable and portable version of the Scan to PDF Tool for Windows is optional in the download area. The alternative free scan to PDF tool for Windows does not necessarily have to be installed, it can be started comfortably from the desktop, even without installation, and can be used immediately on all Windows operating systems. Thus, this free Scan to PDF Tool for Windows can be used as a portable application.
A 
freeware
 tool from the 
Office category on SoftwareOK
!
(Image-1) Easier arrange the scann Pages in for the PDF by dragging and dropping!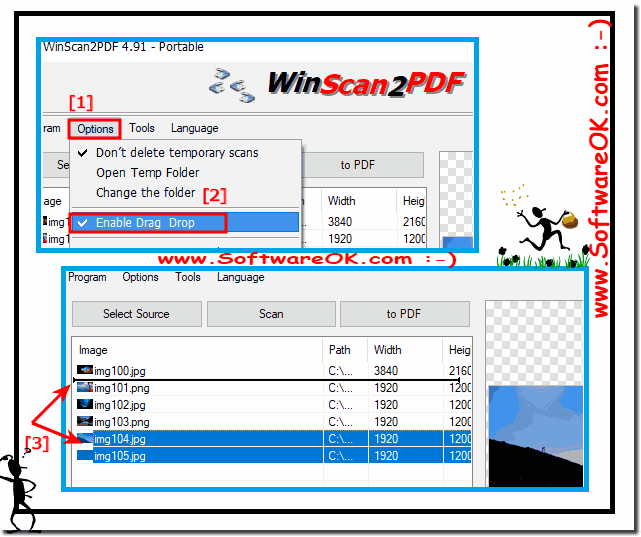 2.) Even More Popular and Highly Respected Scan to PDF Tools for Windows!

There are several popular and highly respected scan to PDF tools for Windows. Please note, however, that software recommendations may change over time as new tools are developed and existing ones are updated. Here are some of the best scan to PDF tools for Windows based on their reputation so far:


Adobe Acrobat DC:
Adobe Acrobat DC is a powerful and widely used PDF creation and editing software. It includes a scanning feature that allows you to scan documents directly to PDF files. It offers advanced OCR (optical character recognition) and document editing features.
VueScan:
VueScan is a versatile scanning software that works with a variety of scanners. It offers advanced scanning features and can save scanned documents as PDF files. It is known for its compatibility with older scanners that may not have the latest software.
NAPS2 (Not Another PDF Scanner 2):
NAPS2 is a simple and easy-to-use tool for scanning documents to PDF. It offers various customization options and supports batch scanning. It is open source and free to use.
PaperScan:
PaperScan is professional scanning software available in both free and paid versions. It offers a range of scanning features, including OCR support, and can save scanned documents as PDFs.
Microsoft Office Lens:
If you're looking for a free and hassle-free option, Microsoft Office Lens is a mobile app for Windows that lets you capture documents using your smartphone's camera and save them as PDF files. It's convenient for scanning on the go.
WinScan2PDF:
WinScan2PDF is a lightweight and free tool specifically designed for converting scanned documents to PDF format. It is easy to use and supports basic editing functions.
►► 
Scan several pages and create or save them as a single PDF file?
PDF-XChange Editor:
Although primarily a PDF editor, PDF-XChange Editor also has scanning capabilities. It can scan documents to PDF and offers OCR functionality for text recognition.

Please note that the availability and functionality of these tools may have evolved. Before choosing a scan to PDF tool, I recommend visiting the official websites of these applications to check for the latest versions and features. Additionally, read user reviews and consider your specific scanning needs to find out which tool is best for you.