You can find the download from the ISS Web Server for Windows 10, 11 on the Microsoft website!
As a web developer or ASP.NET user, you can also use an ISS web server under Windows 8, if you want to install it you don't have to google or bing for a long time, that's IIS (
Internet Information Services
) is easy to use in Windows 10 and other MS Windows servers! And a new version of IIS (version 8) is always included. The installation is quite simple due to the simple activation!
Avoid downloading from the ISS Web Server to Windows 10 by simple activation!
1. Please start
programs and functions in Windows 11/10
 as usual 
2. Scroll down to the item / option: Internet Information Services
3. Activate the WWW service
4. Optionally also the practical FTP server
(
... see Image-1 Point 1 to 4
)
(Image-1) Avoid downloading ISS Web Server for Windows 10 by activating it!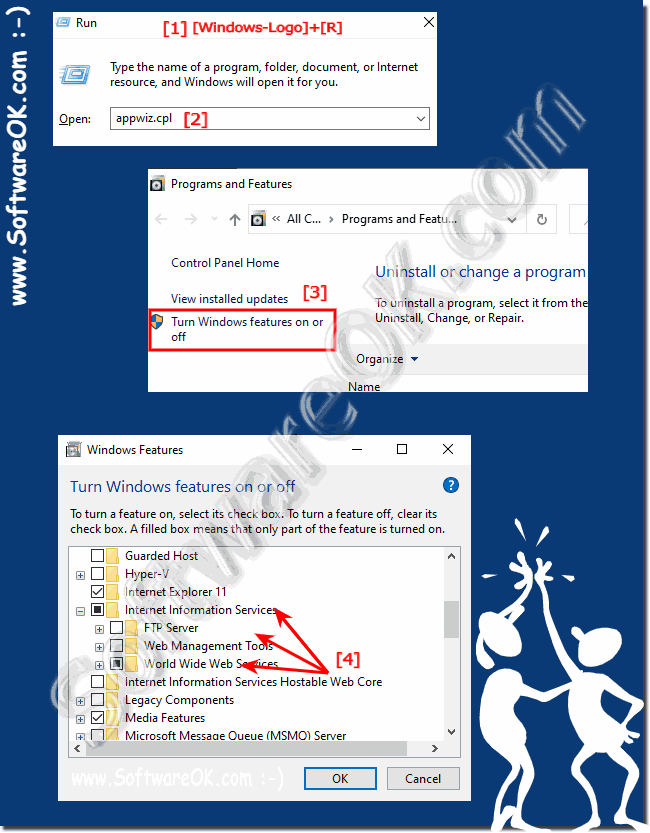 Info:
IIS in Windows is still an optional "Windows function" because Microsoft has built everything modular these days. To install it, press the Windows + R key combination to bring up an execution box. Then type appwiz.cpl and press Enter.