It's easy to restore
the standard libraries under Windows 11 and 10

on Home, Pro and mobile systems!

If you are using Windows 11/10, you know the

Libraries folder

.

In libraries, all files on your computer, or even on external hard drives in documents are categorized music, pictures and videos automatically.

These libraries are very handy, especially if you have a lot of files on your hard drive and want to print them out as a list. If for some reason one of these shortcuts have been deleted, do not worry, there is a way to restore them.

Info:

If you accidentally delete a library, it will usually be moved

to the Recycle Bin

.

Since the files and folders that you could access in the library are stored in a different location, they will not be deleted.

If you accidentally

delete

one of the four

default libraries ( Documents, Music, Pictures, or Videos)

, you can easily restore the initial state by right-clicking Libraries in the navigation pane, then clicking Restore Default Libraries.






Just restore the default libraries in Windows 11/10!
(Picture-2) Standard libraries Restore Windows 11 / 10!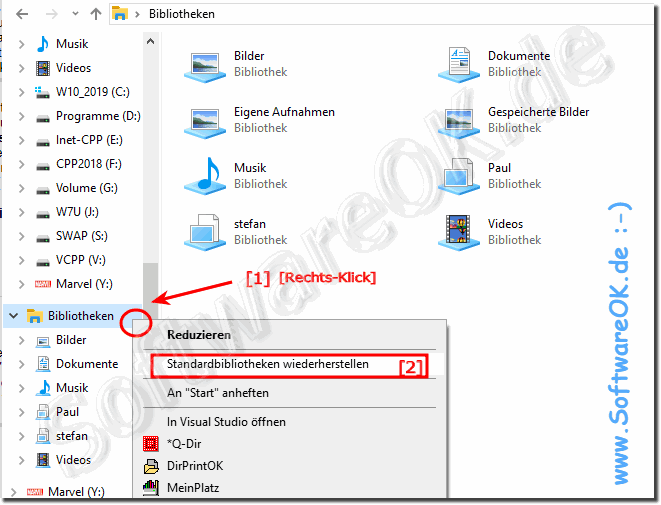 Nevertheless problems with the "restore the standard libraries"!  
What can I do if I still have problems with "restoring the default libraries" is a frequently asked question. Restart the Windows operating system, please
perform a correct Windows restart
here
.
If the problem with standard libraries persists, perform a system files check!