Power Options is a settings page where you can change the power plan and adjust the screen brightness on your computer!
You do not need a tutorial or X methods to open energy options in Windows 10/11. In Control Panel you will still find
the classic energy options in Windows 10
 without having to use third-party
energy optimization tools
, regardless of whether it is a Windows desktop computer, tablet or PC, Surface Pro / Go, or even a server operating system!
Open the power options in Windows 10 and Windows 11!
1. Please open the
Windows 10 settings
 simply
Windows-Logo + I
 and please enter the text
"energy"
.
2. And set the appropriate power options under Microsoft Windows 10
(
... see Image-1 Point 1 to 3
)
(Image-1) Open the power options on Windows 10!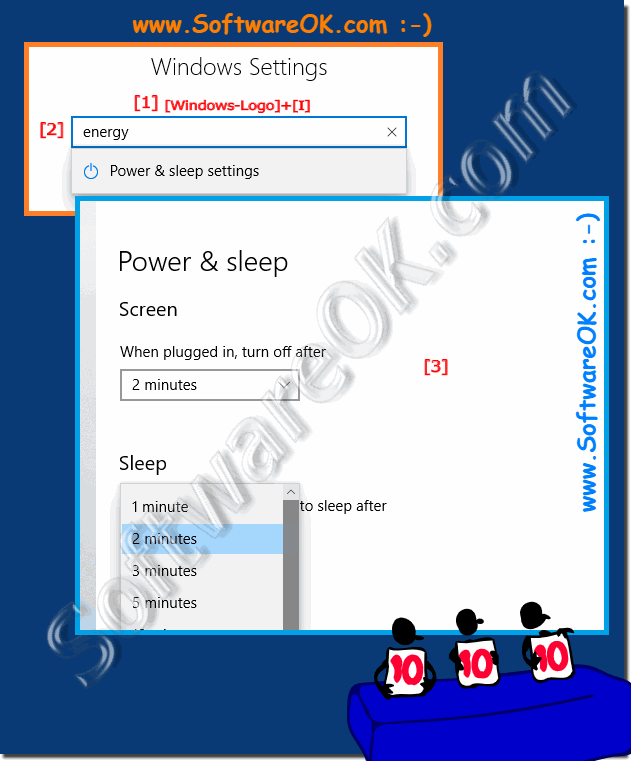 Info:
Windows 10 is the best operating system from Microsoft. It offers almost optimal performance and a long battery life, so that even the most demanding notebook users are satisfied. Nevertheless, there is always room for improvement. Open the
advanced power  settings in Windows 10
 and optimize your operating system - here are practical options to help you set up just the right power and battery balance on your computer. By tweaking them, you can improve performance over battery life. You can also
switch
between
the energy saving plans
, closing
the lid and pressing the power button on the laptop
 is a critical point!