It's just wrong to change the time zone at Windows 11, 10, 8.1 at the time of day!
For example, if you set the time, it is sometimes automatically reset to a different time zone after the reboot.
If the minutes are correct and only the hour is wrong, there is probably a problem with a wrong time zone.
The conversion is possible without time zone expertise.


1. Please open the
Windows 10 / 11 settings
 simply
Windows-Logo + I
 and enter the text
"time"
.
2. And change the corresponding time zone under Microsoft Windows
(
... see Image-1 Point 1 to 4
)
(Image-1) At incorrect time Change the time zone in Windows 10!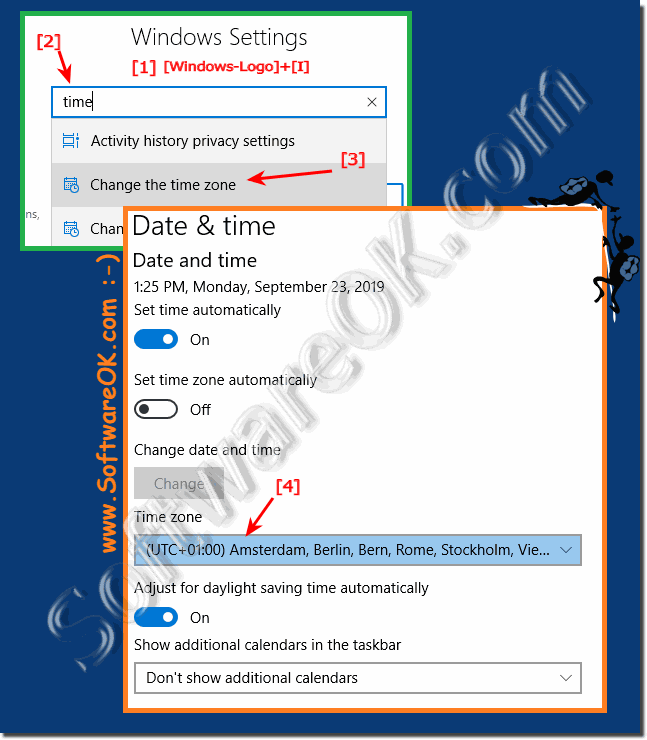 Problems with Scheduled Tasks!
If you have set up your computer to schedule
certain tasks to run on Windows,
an incorrectly set computer clock effectively prevents your system from knowing when it needs to do its job.
These tasks may include uploading content to a server, checking system files, running a diagnostic process, or launching programs.
If you do not correct your system time, you run the risk of receiving information that lacks the time-based reliability you expect from a computerized process.