Easy use / open in Windows 11 the old classic feature "Make the mouse easier to use" for a better Mouse experience!  
Content:
1.) Windows 11 and easy mouse use!
2. Key F3 and enter
"ease"
3. Click on 
"Change how to mouse works"
4: And 
"Make the mouse easier to use"
(Image-1) Windows 11: Make the mouse easier to use!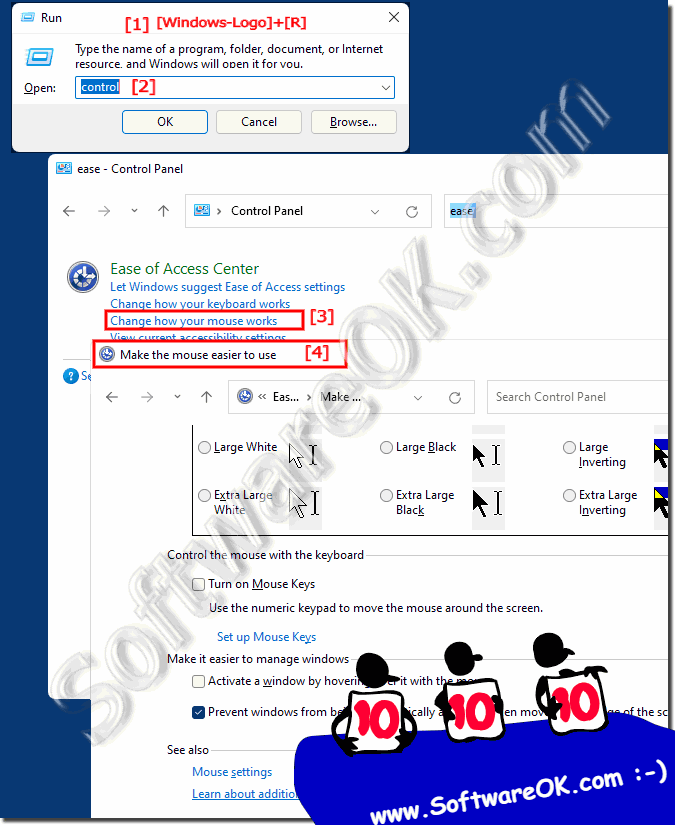 2.) Is the mouse always necessary on Windows 11!
Even under Windows 11, the mouse is still one of the most important peripheral devices, but if you use a touch screen you can do without the mouse. There are also options in the system to operate all tasks without a mouse, but it is a difficult task for most users , to work without the mouse and that is no different with Windows 11.  
But no, a mouse is not always required under Windows 11. Windows 11 was designed so that mouse and keyboard operation as well as touchscreen and pen input work well. It is also possible to use Windows 11 without a mouse using touch or keyboard controls.  
Windows 11 has a streamlined user interface that makes the touchscreen easier to use, and many basic tasks can be performed using the keyboard. You can easily open and navigate the Start menu, apps, and settings using the keyboard. If you're using a device with a touchscreen, you can also tap directly on the screen to interact.  
Still, a mouse can be useful in some situations, especially for precise movements and certain tasks. Using a mouse depends on your personal preferences and the needs of your specific tasks. Windows 11 offers flexibility and support for different input methods.
3.) Advantages and disadvantages of the mouse under Windows 11!
Using a mouse on Windows 11 offers various advantages and disadvantages depending on your individual needs and preferences. Here are some pros and cons of using a mouse on Windows 11:
Pros of using a mouse on Windows 11:
Precision:
A mouse allows for precise pointer control, which is especially beneficial for graphics-intensive tasks like image editing or 3D modeling.
Efficiency:
Navigating menus, files, and folders can often be faster and more efficient using the mouse, especially if you work with many applications open.
Compatibility:
The mouse is a widely used input method supported by virtually all Windows applications.
Ergonomics:
For some users, the mouse is more ergonomic and less strenuous than other input methods.
Disadvantages of the mouse under Windows 11:
Dependence on hardware:
Using a mouse requires appropriate hardware and not all devices are equipped with a mouse. Laptops and tablets often rely on touchpad or touchscreen controls.
Not always portable:
When traveling with a laptop, using a mouse is not always practical as you need a flat surface to use the mouse.
May not be accessible:
Users with motor impairments or other disabilities may find using a mouse challenging. In such cases, alternative input methods may be more appropriate.
Learning Curve:
Some users, especially those familiar with touchscreen devices, may need to get used to using a mouse.

Overall, using a mouse on Windows 11 is a proven method of navigating and interacting with the operating system that offers precision and efficiency, but can have advantages or disadvantages depending on the situation and individual needs. Choosing between mouse, keyboard, touchscreen, or other input methods depends on your personal preferences and the needs of your tasks.