This problem occurs at large auto-update when the Windows 10 updates to W10, desktop way!

Is not there!
The solution ergo instruction is written for Windows 10, there is no reason to panic, here it explains what the cause is unless you use the free tool
AutoHideDesktopIcons
, otherwise it is easy to make the desktop reappear no matter if it's a plain Windows desktop PC, mobile on the tablet, Surface Pro / Go, or even on an MS Server OS.
Activate this from the desktop under Windows 10!
Please press the key combination
Windows + D
to see the Windows desktop. With a simple mouse right click select the desired option. (
... see picture-1 point 1 to 4
) It is
quite easy if sometimes after a large Windows 10 Auto Updates, all settings are lost the desktop icons to be visible again without
having to save the desktop icons before
!
See also: ►►  
Is my Windows 10 up to date
!
There are freeware tools that can do this automatically, such as the free tool
► 
... AutoHideDesktopIcons
!
However, it is not necessary to permanently hide or show the icons.  
Windows 10 Desktop is back again!
(Image-1) Windows 10 Desktop is back again!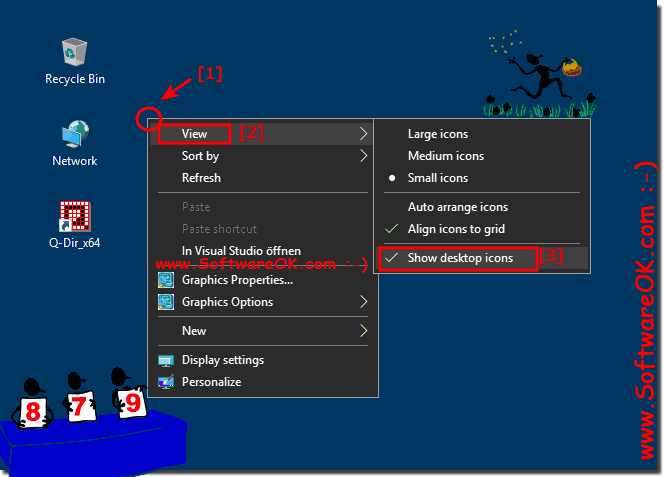 (Picture-1) Windows 10 Desktop is back DA!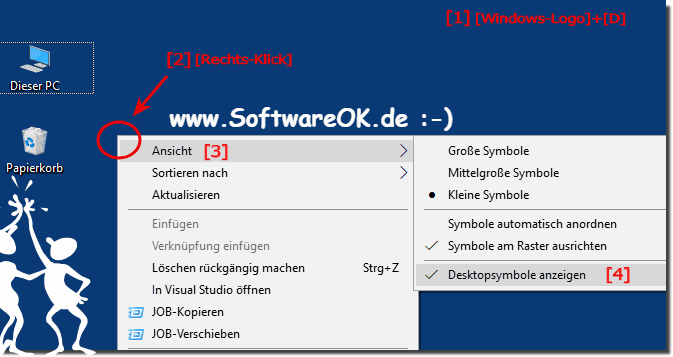 This explanation is suitable for all Win 10 OS and older because here the problem and procedure is always the same.