There is no hassle with varying file size / compression to find duplicate image files fast and easy on Windows 11, 10, ... or MS Server OS!
Doubles on uneven file sizes and compression!
Some one have one or more fairly large folders with 10 GB or more, in the entire directory tree are many duplicate image files contains.
Many of these files are duplicated ten times.
The duplicated files are not next to each other, but in different subdirectories and are different file size or compression.


(
... see Image-1 Point 1 to 3
)
See also: ► 
Difference between quality and performance
! ► 
Function white when comparing the pictures
! 
(Image-1) Different file size or compression to find duplicate pictures!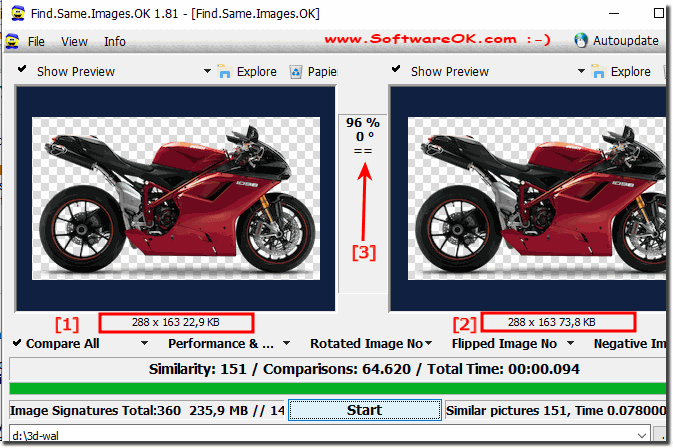 Who wants to read more text!
This is an utility to analyze and search large media collections (images / photos) for almost similar or duplicate content.
This means that media files display the same, but in different file formats, compression levels, and sizes.
Find.Same.Images first analyzes a file, generates a thumbnail image for files, and compares it as a fingerprint.
The analysis results are cached so that subsequent runs become faster.

The program increases the security and protection for your critical system files and directories, if you delete duplicate files the system load is lower.
You can move the duplicate files to the trash or permanently delete duplicate image files.

The tool comes with a handy user interface and is designed for the Microsoft Windows environment.
The tool saves the program status when leaving.
The flexible layout fits any monitor size.