On the desktop you can make the symbol spacing smaller or larger under all Windows on all MS Windows 11, 10, .... OS!
Content:
1.) Increase desktop icon spacing, Windows!
Please start free tool 
DesktopOK
 and start the tool Windows Metric.
Here you can adjust the symbol spacing to better recognize their icons on your Windows desktop, if you are too close together!


(... see Image-1 Point 1 to 3)

See also: ► 
Icon positions under x64
 ► 
Save the symbol layout in the company without admin rights
(Image-1) Enlarge Desktop icon space / distance in, Windows 10, 8.1, ...!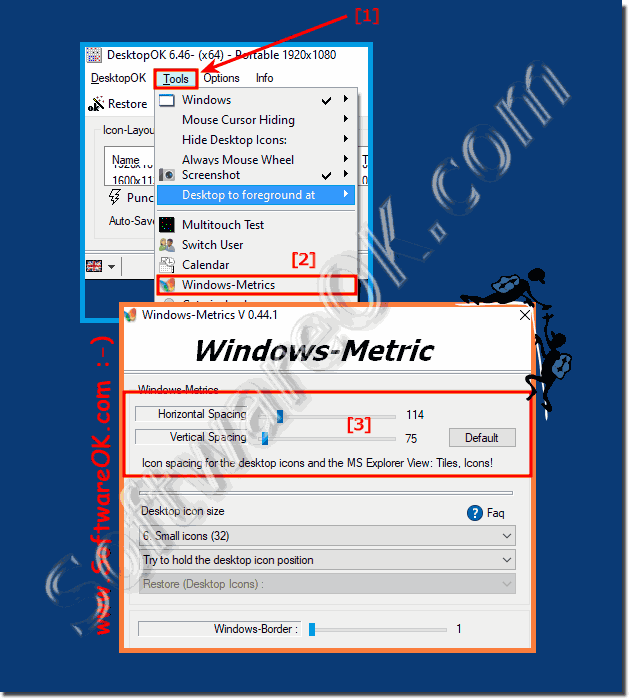 Info:
Still problems with symbol spacing.
What can I do if I still have problems with too close icons on the desktop is a frequently asked question.
Simply restart the Windows operating system, 
please perform a proper Windows reboot. 



2.) Why should I increase desktop icon spacing under Windows 11 and 10?
There are several reasons why you might want to increase the space between icons on your desktop.
To create more space on your desktop.
If you have a lot of icons on your desktop, it may be helpful to increase the space between them to make more space for other elements, such as: B. for files, folders or shortcuts.
To make the symbols easier to recognize.
If the symbols are too close together, it may be difficult to distinguish them. Increasing the distance between them will make them easier to spot and select.
To better organize the icons.
Increasing the space between icons will help you organize them better by arranging them in columns or rows.
As you increase the space between icons, the space between folders also increases. Increasing desktop icon spacing in Windows 11, 10, 8.1, or other versions of Windows has some potential benefits, depending on your personal preferences and needs: Aesthetics:
Increasing
icon spacing can also help your desktop look cleaner and more aesthetic. This can be helpful if you want to keep your desktop tidy and organized.
More clutter:
Increasing icon spacing allows you to space icons further apart on your desktop. This can lead to more clutter, especially if there are a lot of icons on the desktop. Larger spacing makes it easier to recognize and distinguish individual symbols.
Using the touchscreen:
On devices with touchscreens, increased icon spacing can help you touch icons and shortcuts more easily without accidentally selecting the wrong icon.
More Space for Wallpapers:
If you like using wallpapers on your desktop, increasing the icon spacing can create more space for the wallpaper and make it stand out.
It is important to note that setting symbol spacing is a personal preference and there are no strict rules as to how large or small the spacing should be. Windows provides the ability to adjust icon spacing to suit your own preferences. If you want to change icon spacing in Windows, you can do so as follows:

Experiment with different settings to find which icon spacing best suits your personal preferences and needs.