It is easy to undo the renaming of mistakenly renamed folders in Q-Dir on Windows and MS Explorer!
The solution is available in
MS File Explorer
and can also be used
in Quad Explorer
. The quickest way is with the Ctrl + Z
key combination
, which always
offers
the last action, as well as the "mistakenly renamed folder undo", that is not only on Windows 10 or Windows 11 like this, but also on all Windows desktop and server operating systems!



Content:
1.) Rename accidentally renamed folders undo the possibilities!
1. If you accidentally renamed a folder in Q-Dir!
2. Via the right-click menu
3. Via the view menu
4. With the 
key combination
 Ctrl + Z
...................
(Image-2) Undo renaming of mistakenly renamed folders!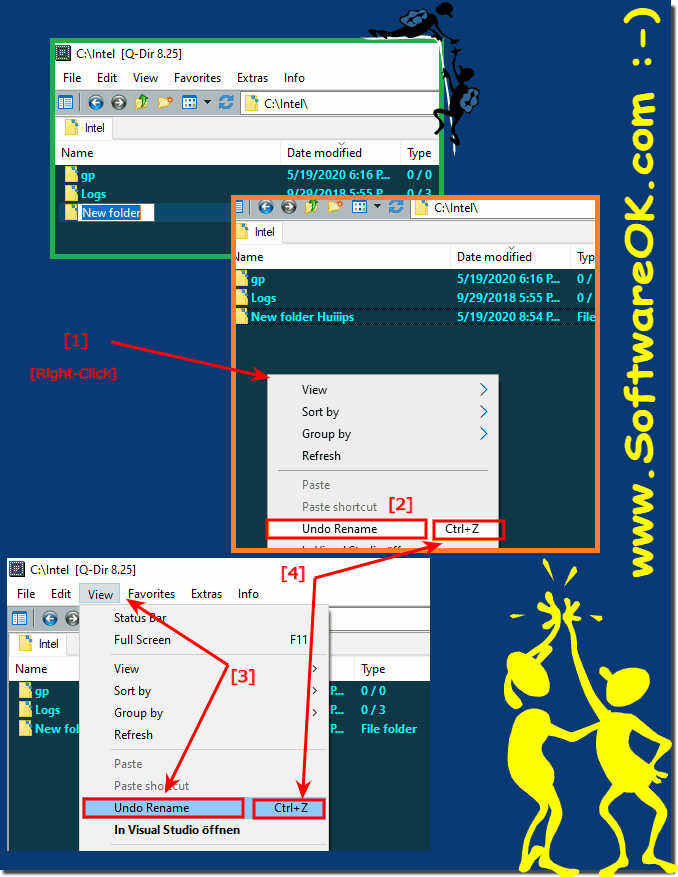 2.) Why undo actions in MS Explorer?
As mentioned earlier, if you made a mistake on your Windows 10 or Windows 11 PC and want to take a step back, you can easily use the built-in undo command. Likewise, the Redo/Redo action also makes sense to undo what you just undid
Both actions in Windows make a lot of sense 
Ctrl + Z = undo 
Ctrl + Y = redo
3.) Can I somehow prevent the last action from being undone?
►► 
Terminate Windows Explorer and restart it!
Create a new file on the desktop, e.g.
"explorer_restart.bat"
, open it with the text editor and simply type in the following lines:

taskkill /IM explorer.exe /F
timeout /t 1
explorer.exe


Save the "explorer_restart.bat", when you call it, the explorer will be closed and restarted.
The first line closes all explorer.exe windows or exits Explorer. In the second he is restarted. The same can be used for IExplorer or for FireFox.
iexplore or iexplore.exe is the command or file for MS Internet Explorer!
Download
... restart_explorer.bat