If the download of the alternative command prompt can not be started try to start the download later!




 

Content:



1.) Official download of the alternative cmd for all MS Windows OS!
Start the download from the official site. I have been reported that there are paid downloads on the Internet and manipulated versions.





(Image-1) Download the alternative command prompt for windows!


2.) Switch the Language in Color-Console for MS Windows!
1. As always, start your ► Color-Console on your MS Windows OS!

2. Please click on last main menu item and change the language
(... see Image-2 Point 1 and 1)

3. Or menu item "Translate" to translate it  

4. Then simply send me the string list to my email address

See: ►► ... Contact!



(Image-2) Change the Language in alternative command prompt for Windows!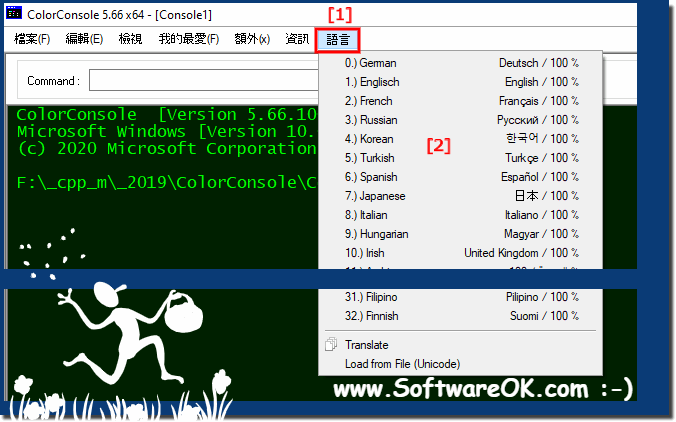 3.) What languages ​​are supported in this Console APP?
# ColorConsole is multilingual and a popular program worldwide:
4.) What should I consider when changing the language?


There is nothing great to consider, you should of course choose the language that you understand and can read, the tool for MS Windows automatically uses the MS Windows standard language as long as it is available in ColorConsole if not the standard language is English!
  







FAQ 4: Updated on: 14 July 2021 06:30