There are files in the Delete.On.Reboot list even though I have not added any, what is the program doing wrong? 





The files and folders that are to be deleted on reboot from the Windows operating system or moved to the hard disk, are entries in the registry, "HKLM\SYSTEM\Current ControlSet\Control\Session Manager" here are also made, for example, Windows 11 and 10  and older entries if Files were updated and should be deleted on reboot. Also other programs make inputs here at system restart to delete files.   




So there are files in the Delete.On.Reboot list even if you did not add any, so the program does not go wrong! 

(Image-1) Files in the Delete at Restart list, on my windows 10!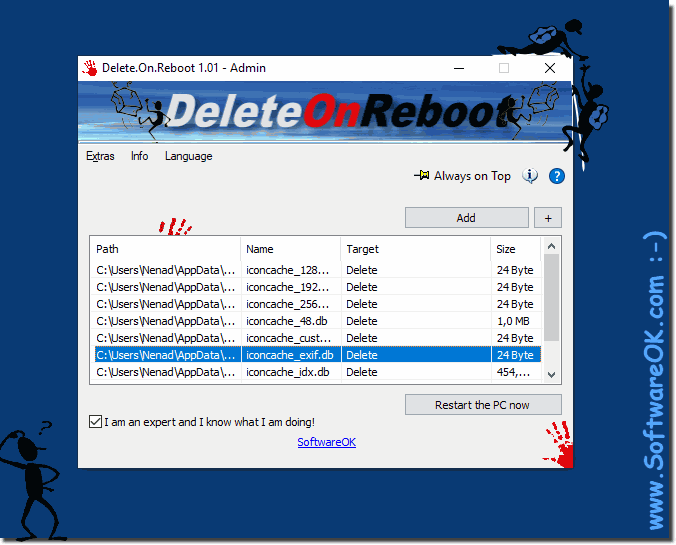 Informations for  who likes to read
The Reboot Deletion tool is a completely free software that can easily delete a file at the next reboot. Sometimes you may be unable to delete a file because it is locked or used by other applications, or because it is a malware that is protected from deletion of files. Use the Restart File command to mark the file for deletion the next time it is restarted.
Some programs can directly delete locked files, such as the
free tool ThisIsMyFile
, without having to
restart
the PC. However, this can be a bad idea. Attempting to unlock a file used by a system process may cause the system to crash and you may lose your work. With
Delete.On.Reboot
You can delete a file on the next reboot carefully and without risk. 
FAQ 1: Updated on: 16 July 2021 13:45